The Lightning Thief (Percy Jackson and the Olympians #1) – Rick Riordan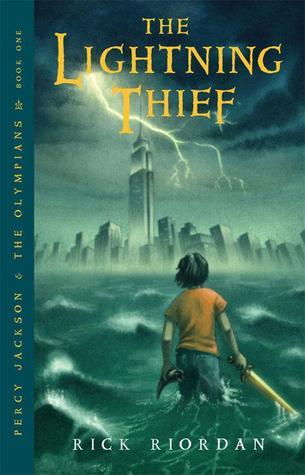 Title: The Lightning Thief
Author: Rick Riordan
Release Date: March 21, 2006
Publisher: Disney Hyperion Books
Format: Paperback
Page Number: 375
Source: Local Bookstore
Percy Jackson is about to be kicked out of boarding school… again. And that's the least of his troubles. Lately, mythological monsters and the gods of Mount Olympus seem to be walking straight out of the pages of Percy's Greek mythology textbook and into his life. And worse, he's angered a few of them. Zeus' master lightning bolt has been stolen, and Percy is the prime suspect.
Now Percy and his friends have just ten days to find and return Zeus' stolen property and bring peace to a warring Mount Olympus. But to succeed on his quest, Percy will have to do more than catch the true thief: he must come to terms with the father who abandoned him; solve the riddle of the Oracle, which warns him of betrayal by a friend; and unravel a treachery more powerful than the gods themselves.
4 out of 5 stars
Plot:
I loved this story line. I really did. I love the Greek gods being the parents of these kids who have another mortal parent. I like Percy and Annabeth the best out of the group. Grover is great, but he's a little irritating. The idea is so different than anything I've ever read and it's so unique. It's weird that I never read these books because I've been a reader for as long as I can remember, but I'm glad I'm reading the series now, even if I am a freshman in highschool. I only read it next because my younger brother, age 12, has been pestering me to read it since the beginning of this year, so I decided I would. Overall I liked the idea, but it was a little childish, which is acceptable to me because it is in the Middle Grade genre instead of Young Adult.
Characters:
I liked the characters a lot. I love Percy Jackson. He would have been my book crush for my younger self if I had read them earlier on. I've heard that he gets older as the books progress, so I'm excited to see if I like him even more and if I relate to him better once he is the same age as me. Annabeth happens to be my favorite from this book, though. I love how she's witty and she doesn't really care what anyone else thinks of her. My favorite part had to be in the run-down amusement park where she almost refused to go in the Tunnel of Love ride with Percy because she didn't want to be embarrassed. It was just so cute and captured the age of these kids (Half-Bloods) perfectly!
Who Would I Be?:
I would definitely be Annabeth. She's just so strong and very strong-willed. I love that she didn't fall in love with Percy, even though I hope it happens soon, but it definitely wasn't insta-love. That aspect of the story was absolutely perfect because 12 year-olds do not fall in love. They might think they do, but I promise you they don't. Yep, definitely Annabeth. I would also get to hang out with Percy, and seriously, that would be fricking cool.
Series:
The Sea of Monsters (Percy Jackson and the Olympians #2)
The Titan's Curse (Percy Jackson and the Olympians #3)
The Battle of the Labyrinth (Percy Jackson and the Olympians #4)
The Last Olympian (Percy Jackson and the Olympians #5)