The Fault in Our Stars – John Green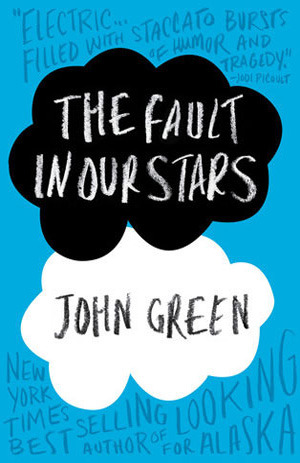 Title: The Fault in Our Stars
Author: John Green
Release Date: January 10, 2012
Publisher: Dutton Books
Format: Hard Cover
Page Number: 318
Source: Local bookstore
Despite the tumor-shrinking medical miracle that has bought her a few years, Hazel has never been anything but terminal, her final chapter inscribed upon diagnosis. But when a gorgeous plot twist named Augustus Waters suddenly appears at Cancer Kid Support Group, Hazel's story is about to be completely rewritten.
5 out of 5 stars
Plot:
I love the idea of this book. I love everything about it. It was perfectly and wonderfully written by the amazing John Green. Meeting and shaking hands with John Green is on my bucket list. I don't know what I would say to him if I met him, but I would be a mess because I would be so excited. This book was (and is) so beautiful. I will re-read this book many many times. I love the idea of the lovesick teens who meet and think of nothing but the each other. I love how they talked about books and I loved the pointless parts in this book. Like with Hazel Grace and her obsession with getting eggs to be more than just a breakfast food. I cannot express how much I love this brilliant book.
Characters: 
The main characters in this book are Hazel Grace and Augustus Waters. I love the both of them separately and together, together much better though. I love Hazel so much because of her sarcasm and her pointless comments, again the egg comments. I adored when they talked about the books because they were both so passionate about them and it just made me smile. I laughed out loud for the first time ever while reading a book, just so perfect. I have to admit, one of my favorite parts from this book was after Augustus finished Hazel's favorite book and he texted her freaking out asking if that was the actual end of the book. These characters were so well developed and it was just perfect reading about them. I loved this story and I do not understand how anyone could dislike this book in any way.
Who Would I Be?:
I would definitely be Hazel Grace. Who else would I be? I love her. She has the perfect amount of sarcasm and wittiness. I love her inquisitive comments and it was wonderful reading about her. Of course I wouldn't want to have cancer like she has, but I want her loving personality. John Green, I applaud you and every thing you do. I love you so extremely much.