Fangirl – Rainbow Rowell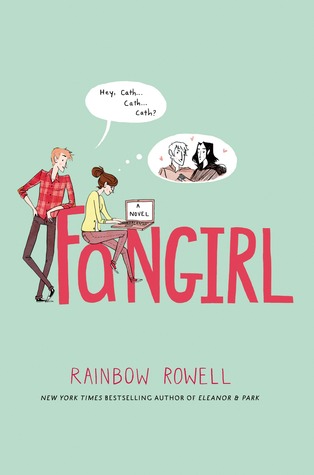 Title: Fangirl
Author: Rainbow Rowell
Release Date: September 10, 2013
Publisher: St. Martin's Griffin

Format: Hardcover
Page Number: 448
Source: Barnes and Noble
In Rainbow Rowell's Fangirl, Cath is a Simon Snow fan. Okay, the whole world is a Simon Snow fan, but for Cath, being a fan is her life—and she's really good at it. She and her twin sister, Wren, ensconced themselves in the Simon Snow series when they were just kids; it's what got them through their mother leaving.
Reading. Rereading. Hanging out in Simon Snow forums, writing Simon Snow fan fiction, dressing up like the characters for every movie premiere.
Cath's sister has mostly grown away from fandom, but Cath can't let go. She doesn't want to. Now that they're going to college, Wren has told Cath she doesn't want to be roommates. Cath is on her own, completely outside of her comfort zone. She's got a surly roommate with a charming, always-around boyfriend, a fiction-writing professor who thinks fan fiction is the end of the civilized world, a handsome classmate who only wants to talk about words . . . And she can't stop worrying about her dad, who's loving and fragile and has never really been alone.
For Cath, the question is: Can she do this? Can she make it without Wren holding her hand? Is she ready to start living her own life? And does she even want to move on if it means leaving Simon Snow behind?
 
A New York Times Book Review Notable Children's Book of 2013
5 out of 5 stars
Plot:
I loved this book so much. I'm so glad I read it in the beginning of 2014, it made me so happy because it was so cute. The idea of this book is adorable; a nerdy book girl in love with a fandom falls in love with a perfect boyfriend. Cath is in love with Simon Snow, which is like our Harry Potter. She writes fanfiction and has thousands of readers on a fanfic website. She and her twin sister, Wren, used to write together, but now that they are freshman in college Wren decides to drop Simon Snow. Cath is crushed and this book just tells how she gets along without her best friend, her sister, in her first year of college.
Characters:
Cath is a wonderful, beautifully relateable character. I love that she's obsessed with Simon Snow and I think it's amazing how Rainbow Rowell can create such perfectly flawed characters. The relationships between the characters are so real. Not many authors can capture the feeling of fighting with your siblings or meeting another teenager the same age as you. Levi is so amazing and he's the most perfect boyfriend on the planet. He is one of my top 5 book crushes. I love him. I like how the relationship between Levi and Cath is formed, it's just so fricking adorable.
Who Would I Be?:
I wouldn't have to change much, but I'd be Cath. The only thing I would have to do differently would be to write fanfiction. She is so relateable and adorable. Cath fangirls over books and book characters and huh… so do I, shocking. Gah. Cath. I would be Cath.