Harry Potter and the Sorcerer's Stone (Harry Potter #1) – J. K. Rowling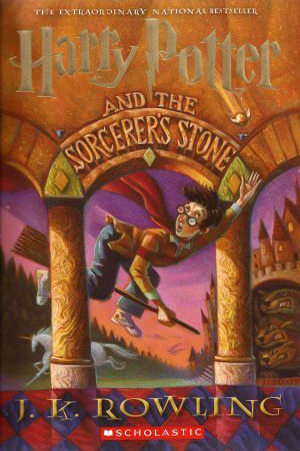 Title: Harry Potter and the Sorcerer's Stone (Harry Potter #1)
Author: J. K. Rowling
Release Date: January 1, 1997
Publisher: Scholastic Press

Format: Hardcover
Page Number: 310
Source: Bookstore
Harry Potter has never played a sport while flying on a broomstick. He's never worn a Cloak of Invisibility, befriended a giant, or helped hatch a dragon. All Harry knows is a miserable life with the Dursleys, his horrible aunt and uncle, and their abominable son, Dudley. Harry's room is a tiny cupboard under the stairs, and he hasn't had a birthday party in ten years.
But all that is about to change when a mysterious letter arrives by owl messenger: a letter with an invitation to a wonderful place he never dreamed existed. There he finds not only friends, aerial sports, and magic around every corner, but a great destiny that's been waiting for him… if Harry can survive the encounter.
5 out of 5 stars
Plot:
This story is still as perfect as I remember it being the first time I read it. The wizarding world J. K. Rowling has created is remarkable. This story is perfect and witty and the conversations are beautifully written. There isn't really much to say because this book (and whole series) is utterly perfect.
Characters:
The characters are wonderfully and perfectly flawed. They aren't perfect. Ron's family doesn't have much money, Harry doesn't have parents, and Hermione is muggle-born. None of them are perfect and that is part of the reason that makes this story relateable and wonderful to read. Dumbledore still has to be one of my all time favorite characters.
Who Would I Be?:
I would be Ron. I would live in a quirky, awesome house and I would live with a bunch of crazy nice siblings. I love Fred and George and Ron is adorable. He doesn't know it yet, but he's going to fall in love with Hermione ;) I would love having that many crazy siblings. Fred and George would be the craziest ones and Bill and Charlie and Percy would be the normal-ish ones and Ginny would be that awesome little sister. I mean come on. And, plus, Ron was definitely my first book crush.
Series:
Harry Potter and the Chamber of Secrets (Harry Potter #2)
Harry Potter and the Prisoner of Azkaban (Harry Potter #3)
Harry Potter and the Goblet of Fire (Harry Potter #4)
Harry Potter and the Order of the Phoenix (Harry Potter #5)
Harry Potter and the Half-Blood Prince (Harry Potter #6)
Harry Potter and the Deathly Hallows (Harry Potter #7)
Harry Potter and the Cursed Child – Parts One and Two (Harry Potter #8)