Harry Potter and the Prisoner of Azkaban (Harry Potter #3) – J. K. Rowling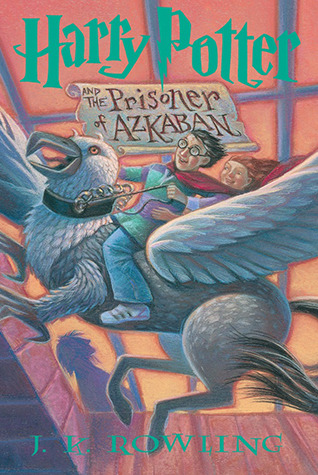 Title: Harry Potter and the Prisoner of Azkaban (Harry Potter #3)
Author: J. K. Rowling
Release Date: May 1, 2004
Publisher: Scholastic Inc.
Format: Hardcover
Page Number: 468
Source: Garage Sale
Harry Potter is lucky to reach the age of thirteen, since he has already survived the murderous attacks of the feared Dark Lord on more than one occasion. But his hopes for a quiet term concentrating on Quidditch are dashed when a maniacal mass-murderer escapes from Azkaban, pursued by the soul-sucking Dementors who guard the prison. It's assumed that Hogwarts is the safest place for Harry to be. But is it a coincidence that he can feel eyes watching him in the dark, and should he be taking Professor Trelawney's ghoulish predictions seriously?
5 out of 5 stars
Plot:
Again, I may be a little biased towards the Harry Potter books because they're my all time favorite series, but I absolutely loved this book. I want to go to at at Hogwarts so bad, oh my goodness. My favorite part of this book was when Harry obtained the Marauder's Map because it led to so much happening later on. I always love when Harry gets out of the Dursley's house and goes to Ron's house. Ron's house is one of my favorite venues in the whole series. I read this book for the first time about 5 years ago and I didn't realize how much I'd forgotten.That is one of the best things about rereading a book, you rediscover things that you'd forgotten and you get to enjoy the story all over again. Harry Potter is one series that, if I could, I would unread so I could experience it for the first time all over again.
Characters:
Harry, Ron, and Hermione, also known as the Golden Trio, are my favorite characters from any book. harry is strong-willed and definitely doesn't ever give up. Ron has very strong opinions about everything, and is not afraid to express that, and Hermione is smart and witty, and a very loyal best friend. Ron is my favorite from this wizarding threesome, but in my opinion, nobody will ever compete with Dumbledore. Dumbledore is my all time favorite character from this whole series and he always forgives and sees the best in everyone.
Who Would I Be?:
From this book I would be Ron because I love how excited he gets when Harry gets his Firebolt, and I love that he doesn't give in to anyone. It was funny, and a little irritating, when Ron was angry with Hermione about Scabbers and Crookshanks, but other that their dispute about that, I love Ron. It's definitely irrtating becaause Hermione and Ron would be the perfect couple, but neither of them want to admit to it yet. :)
Series:
Harry Potter and the Sorcerer's Stone (Harry Potter #1)
Harry Potter and the Chamber of Secrets (Harry Potter #2)
Harry Potter and the Goblet of Fire (Harry Potter #4)
Harry Potter and the Order of the Phoenix (Harry Potter #5)
Harry Potter and the Half-Blood Prince (Harry Potter #6)
Harry Potter and the Deathly Hallows (Harry Potter #7)
Harry Potter and the Cursed Child – Parts One and Two (Harry Potter #8)