We Were Liars – E. Lockhart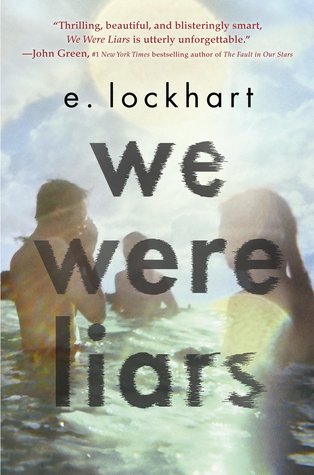 Title: We Were Liars
Author: E. Lockhart
Release Date: May 13, 2014
Publisher: Delecorte Press
Format: ARC
Page Number: 225
Source: Random House
A beautiful and distinguished family.
A private island.
A brilliant, damaged girl; a passionate, political boy.
A group of four friends—the Liars—whose friendship turns destructive.
A revolution. An accident. A secret.
Lies upon lies.
True love.
The truth.
 
We Were Liars is a modern, sophisticated suspense novel from National Book Award finalist and Printz Award honoree E. Lockhart. 
Read it.
And if anyone asks you how it ends, just LIE.
5 out of 5 stars
Plot:
It takes someone very special to write poetry like that. I just cried when I read that. That is the first book I have ever cried during while reading. I love this book. I love this book so much and it will forever hold a spot in my heart no matter how cheesy that sounds. This book, like John Green said, is utterly unforgettable. I don't even know what to do with myself. *cue the fangirling* This was a summer love story with three cousins plus an extra. A horrible accident occurs where one liar loses all memory of that summer. You had to think when you read this book. It was not a light read, but it was amazing. I don't even understand how many metaphors can be packed into one book. This is just as good as The Fault in Our Stars – John Green and that is my all time favorite book…
Characters:
These characters were perfect All of them were so perfectly flawed; I cannot tell you how much I loved all of them. The four liars are Cady, Mirren, Gat, and Johnny. Cady, Mirren, and Johnny are all the perfect Sinclairs, and Gat is the one that turned them all into liars.
Who Would I Be?:
I would be Cady Sinclair. Cady doesn't know what happened after her accident and she spends the summer trying to figure it out. I love Cady and E. Lockhart had me entranced with the story in every way humanly possible. But always remember, Read it. And if anyone asks you how it ends, just LIE. #wewereliars
Huge thanks to Random House for sending me this wonderfully enticing book that had almost too many feels to handle. It will seriously hold a spot in me forever.
I found these pictures on the We Were Liars official Tumblr page and fangirled a lot…