We'll Always Have Summer (Summer #3) – Jenny Han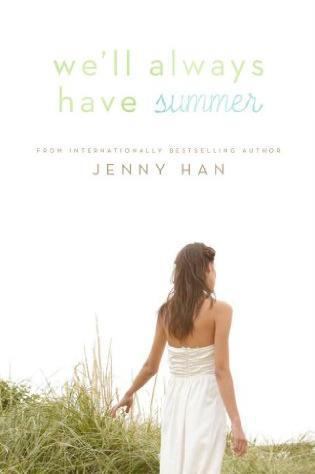 Title: We'll Always Have Summer (Summer #3)
Author: Jenny Han
Release Date: April 26, 2011
Publisher: Simon and Schuster Books
Format: Paperback
Page Number: 291
Source: Bookstore
It's been two years since Conrad told Belly to go with Jeremiah. She and Jeremiah have been inseparable ever since, even attending the same college– only, their relationship hasn't exactly been the happily ever after Belly had hoped it would be. And when Jeremiah makes the worst mistake a boy can make, Belly is forced to question what she thought was true love. Does she really have a future with Jeremiah? Has she ever gotten over Conrad? It's time for Belly to decide, once and for all, who has her heart forever.
4 out of 5 stars
Plot:
This was the perfect ending to the Summer Trilogy. I loved this book. I started this morning and finished it around 1:45. I really enjoyed this book and it makes me want summer to come. This book was about Jeremiah proposing to Belly right at the end of her freshman year in college. She loves him, so she says yes. They think the families will be happy for them, but it turns out they highly disapprove. Everyone says they're much too young to be making big decisions, like getting married. She loves Jere, but does she love him enough to spend the rest of her life with him? Did she fall for the wrong Fisher boy in the end? We'll Always Have Summer is a realistic take on a college couple getting in over their heads. I love the whole story and all the characters in it.
Characters:
I have been team Conrad for most of the time throughout this series and this book was no exception. Conrad and Belly are perfect together and tehy make the perfect couple. I didn't like Jere in this book. I've never really disliked Jere, but in this one he got irritating and really selfish. People who have read this book understand why Jere is so irritating to me. That is one of the worst, most unforgivable things anyone could ever do. Jere and Belly weren't meant to be and it really becomes obvious in this book. Belly and Conrad, though, they are perfect. :)
Who Would I Be?:
I would choose to be Conrad because what he did at the end of the book was really brave. I would want to feel what that kind of bravery would feel like. He risked his relationship with his own brother to follow the girl he loved. He chose to act on being in love and in the end it worked out for him.
Series:
It's Not Summer Without You (Summer #2) – Jenny Han