The Sea of Monsters (Percy Jackson and the Olympians #2) – Rick Riordan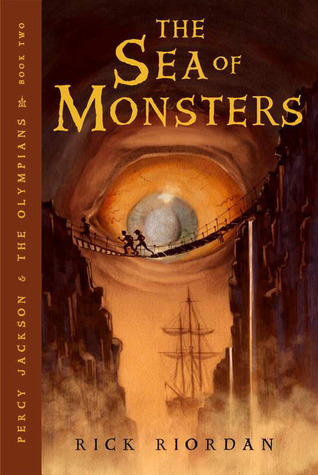 Title: The Sea of Monsters (Percy Jackson and the Olympians)
Author: Rick Riordan
Release Date: April 1, 2006
Publisher: Disney Hyperion Books
Format: Paperback
Page Number: 288
Source: Bookstore
Percy Jackson's seventh-grade year has been surprisingly quiet. Not a single monster has set foot on his New York prep-school campus. But when an innocent game of dodgeball among Percy and his classmates turns into a death match against an ugly gang of cannibal giants, things get . . . well, ugly. And the unexpected arrival of Percy's friend Annabeth brings more bad news: the magical borders that protect Camp Half-Blood have been poisoned by a mysterious enemy, and unless a cure is found, the only safe haven for demigods will be destroyed.
In this fresh, funny, and hugely anticipated follow up to The Lightning Thief, Percy and his friends must journey into the Sea of Monsters to save their beloved camp. But first, Percy will discover a stunning new secret about his family—one that makes him question whether being claimed as Poseidon's son is an honor or simply a cruel joke.
3 out of 5 stars
Plot:
I enjoyed this book, but it took me a while to finish. I kept comparing this book to the movie with Logan Lerman. The book was so much better than the movie and the movie producer people did a horrible job  with making the movie similar to the book. I liked reading this book, but I wish I'd read this series when I was in 5th or 6th grade, though. I'm not saying it was bad, because it wasn't, but it was definitely middle grade. In this one they go on a quest to the Sea of Monsters to get a magic golden fleece to heal Talia's dying tree. They go all the way to the Sea of Monsters and when they come back, they find they face even bigger problems.
Characters:
I really like the Percy Jackson characters. Annabeth is my favorite in this book because she is so smart and witty. Percy is a good main character, and I like the banter between Annabeth and Percy. Tyson is Percy's brother and he turns out to be a cyclops. Tyson got kind of annoying at times, but most of the time he was okay.
Who Would I Be?:
I love Annabeth so I choose to be her. I enjoy everything about Annabeth: her wit, her smarts, her sarcasm. I would like to be Percy's beset friend, as well. Percy would be an awesome best friend and Annabeth would be an awesome person to trade places with.
Series:
The Lightning Thief (Percy Jackson and the Olympians #1)
The Titan's Curse (Percy Jackson and the Olympians #3)
The Battle of the Labyrinth (Percy Jackson and the Olympians #4)
The Last Olympian (Percy Jackson and the Olympians #5)