Don't Even Think About It (Don't Even Think About It #1) – Sarah Mlynowski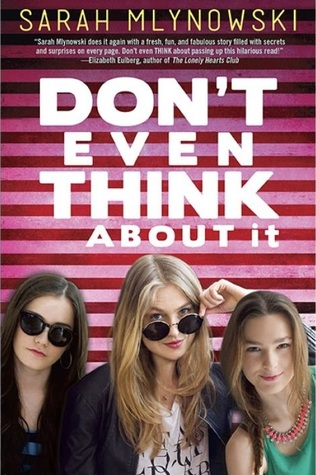 Title: Don't Even Think About It (Don't Even Think About It #1)
Author: Sarah Mlynowski
Release Date: March 11, 2014
Publisher: Delecorte Press
Format: eBook
Page Number: 336
Source: NetGalley
Contemporary teen fiction with romance, secrets, scandals, and ESP from the author of Ten Things We Did (And Probably Shouldn't Have).
We weren't always like this. We used to be average New York City high school sophomores. Until our homeroom went for flu shots. We were prepared for some side effects. Maybe a headache. Maybe a sore arm. We definitely didn't expect to get telepathic powers. But suddenly we could hear what everyone was thinking. Our friends. Our parents. Our crushes. Now we all know that Tess is in love with her best friend, Teddy. That Mackenzie cheated on Cooper. That, um, Nurse Carmichael used to be a stripper.
Since we've kept our freakish skill a secret, we can sit next to the class brainiac and ace our tests. We can dump our boyfriends right before they dump us. We know what our friends really think of our jeans, our breath, our new bangs. We always know what's coming. Some of us will thrive. Some of us will crack. None of us will ever be the same.
So stop obsessing about your ex. We're always listening.
"Smart and frequently hilarious." –Publishers Weekly, starred
"Hilarious, moving, and utterly ingenious." —Robin Wasserman, author of The Book of Blood and Shadow and The Waking Dark
"Sarah Mlynowski does it again with a fresh, fun, and fabulous story filled with secrets, surprises, and a sixth sense. Don't even THINK about passing up this hilarious read!" —Elizabeth Eulberg, author of The Lonely Hearts Club
"Finally, someone understands that if you develop powers as a teenager, it's not the government you have to watch out for—it's your best friends. Funny, realistic, heartfelt, satiric, and unpredictable." —Ned Vizzini, New York Times bestselling author of It's Kind of a Funny Story
3 out of 5 stars
Plot:
Kids from a normal highschool all get a flu vaccine, and the result? Mind reading. I really enjoyed the concept, but the story wasn't perfectly carried out. I thought it was kinda cool right away, then really boring in the middle, then semi-good at the end. This book was a fun read, but definitely unrealistic. Obviously the mind reading from flu shots wasn't normal, but the characters were unnatural and awkwardly scripted. The ideas didn't flow smoothly. These are highschool students, they were portrayed as older. I don't think highschool freshman would be thinking about sex all the time, but I could be completely wrong. These girls are cheating on their boyfriends and hooking up with other guys. That was "fine," but then the guy takes the girl back after she admitted to cheating on him… what. I don't know, It just seemed unrealistic to me.
Characters:
Some of these characters irritated me… a lot. Why go out with a guy that you knew was a jerk? Why cheat on your perfect boyfriend? I just didn't relate to any of these characters. I fall in love with books when the characters are loveable, or perfect, or even perfectly flawed. Normal characters are just that, normal. Normal is boring and overrated. None of them were exceptionally amazing at anything and I think that is one of the reasons why I didn't enjoy this story too much.
Who Would I Be?:
I think I would choose to be Olivia. She's the one who goes out with the jerk, but then finds a good guy in the end. I don't really like any of the characters, but if I had to pick, I'd be Olivia. Olivia is constantly pressured by her mom. Her mom always says she needs to lose weight and that she's fat, and is basically a bully. Olivia is the most relateable character in the whole book.
*Thanks to NetGalley for sending me this copy. Sorry I didn't read it before the deadline… oops. :)*