I Am Number Four (Lorien Legacies #1) – Pittacus Lore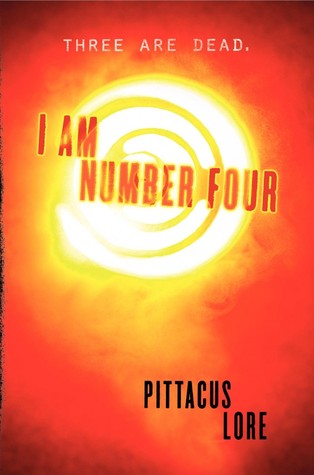 Title: I Am Number Four (Lorien Legacies #1)
Author: Pittacus Lore
Release Date: August 3, 2010
Publisher: Harper Collins
Format: Paperback
Page Number: 440
In the beginning they were a group of nine. Nine aliens who left their home planet of Lorien when it fell under attack by the evil Mogadorian. Nine aliens who scattered on Earth. Nine aliens who look like ordinary teenagers living ordinary lives, but who have extraordinary, paranormal skills. Nine aliens who might be sitting next to you now. The Nine had to separate and go into hiding.
The Mogadorian caught Number One in Malaysia, Number Two in England, and Number Three in Kenya. All of them were killed. John Smith, of Paradise, Ohio, is Number Four. He knows that he is next.
I AM NUMBER FOUR is the thrilling launch of a series about an exceptional group of teens as they struggle to outrun their past, discover their future—and live a normal life on Earth.
4 out of 5 stars
Plot:
Nine kids are sent to Earth from the planet Lorien. These kids each have a guardian and a number. A curse is placed on all nine of them. The curse says they have to be killed in order according to number. Numbers one through three are dead… Number Four is next. I loved this story. The concept is so strange and the book is so wonderfully written. When I picked this book up I really had no idea what it was about except that there were nine kids and the main character was Number Four. I'm glad I knew nothing more about this story because I don't think I would have enjoyed it as much as I did if I had known what it was about. I wouldn't have been surprised by the premise of the story if I had know what it was about. I loved everything about this book, really. It was a super fun read, even though it did take me a while to finish. I'm a fast reader and it usually doesn't take me longer than a couple days for me to finish a book. 400 pages isn't very long for me. Overall, I'm so glad I picked this book up. Worth all the hype and I fully recommend it to anyone.
Characters:
John is the main character in this book, he is Number Four. He and his guardian, Henri, move to Paradise. The two of them settle down there and John goes to school and meets some really great best friends. He meets a beautiful blonde girl named Sarah, and becomes best friends with the alien-obsessed nerd, Sam. John and Sarah like eachother and then continue to fall head over heels for one another. Their relationship is so adorable. I love the characters separately, but I love them even more together.
Who Would I Be?:
Sarah. Duh. She gets to be dating a super-human, amazingly sweet, basically perfect guy. Of course I pick to be Sarah. John and Sarah are so cute together. John. Mmmm. He's so sweet. He's one of the sweetest male characters I've ever encountered in a book. I would love to be Sarah because of John. That is definitely enough of an explanation. :)
Source: Library