City of Bones (The Mortal Instruments #1) – Cassandra Clare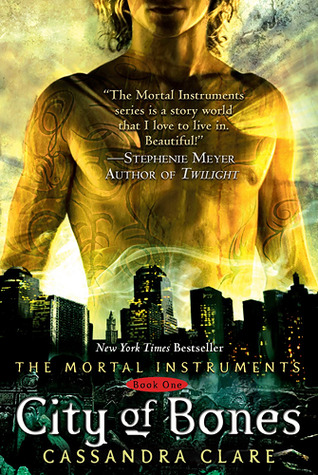 Title: City of Bones (The Mortal Instruments #1)
Author: Cassandra Clare
Release Date: April 14, 2000
Publisher: Simon Pulse
Format: Paperback
Page Number: 485
When Clary Fray heads out to the Pandemonium Club in New York City, she hardly expects to witness a murder. Much less a murder commited by three teenagers covered with odd markings. This is Clary's first meeting with the Shadowhunters, warriors dedicated to ridding the earth of demons–and keeping the odd werewolves and vampires in line. It's also her first meeting with gorgeous, golden-haired Jace. Within twenty-four hours Clary is pulled into Jace's world with a vengeance, when her mother disappears and Clary herself is attacked by a demon. But why would demons be interested in an ordinary mundane like Clary? And how did she suddenly get the Sight? The Shadowhunters would like to know….
5 out of 5 stars
Plot:
The Mortal Instruments world is one of my favorite fictional worlds. Shadowhunters hunt and kill demons with special weapons. The main character, Clary, is completely new to the Shadowhunter world. She knows nothing about it until three mysterious teenagers are seen by her Mundane eyes. She sees Jace Wayland and Alec and Isabelle Lightwood. The three Shadowhunters Clary sees are in an all age dance club, and then she sees them pull knives and daggers on a normal looking boy. She screams, but no one else can see them because of Glamour. You can only see through Glamour if you're a Shadowhunter or a Downworlder or you have "the sight." Hmm. Does Clary possess one of these traits? How can she see them? I love the Shadowhunter world. I've read this book three times now. I love the whole idea of it and I love everything about it in general.
Characters:
Jace Wayland. Jace is so perfect. He's my book crush. He's beautifully sarcastic and I love it. Clary Fray is the protagonist of this story and I love how curious about everything she is. I think it's unrealistic that she would "get used to" the idea of Shadowhunters so easily. I know that I would freak out for more than a day. Alec and Isabelle are some of my favorite characters. Alec is so sassy and Isabelle is so fabulous. Cassandra Clare perfectly projected a sibling relationship. Magnus is one of my absolute favorite characters. I think I only love him because I've read the other books and I know what's going to happen with him, but he's so energetic and he doesn't care what other people think of him.
Who Would I Be?:
I would be Isabelle because she's tall, which I am definitely not, and she's beautiful and graceful. I would love to have Alec as a brother because he's awesome and a genuinely nice person. Again, I've read this whole series so that's how I already know that I love him. He and his sister are just loveable characters.
Series:
City of Ashes (The Mortal Instruments #2) – Cassandra Clare
City of Glass (The Mortal Instruments #3) – Cassandra Clare
City of Fallen Angels (The Mortal Instruments #4) – Cassandra Clare
City of Lost Souls (The Mortal Instruments #5) – Cassandra Clare
City of Heavenly Fire (The Mortal Instruments #6) – Cassandra Clare