City of Glass (The Mortal Instruments #3) – Cassandra Clare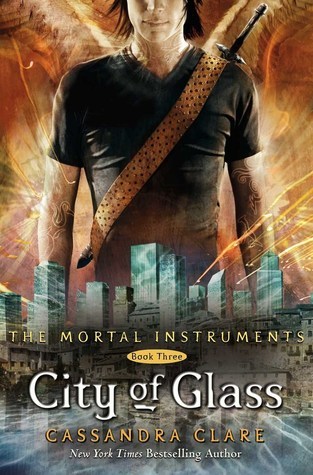 Title: City of Glass (The Mortal Instruments #3)
Author: Cassandra Clare
Release Date: March 24, 2009
Publisher: Margaret K. McElderry Books
Format: Paperback
Page Number: 541
Source: Bookstore
To save her mother's life, Clary must travel to the City of Glass, the ancestral home of the Shadowhunters – never mind that entering the city without permission is against the Law, and breaking the Law could mean death. To make things worse, she learns that Jace does not want her there, and Simon has been thrown in prison by the Shadowhunters, who are deeply suspicious of a vampire who can withstand sunlight.
As Clary uncovers more about her family's past, she finds an ally in mysterious Shadowhunter Sebastian. With Valentine mustering the full force of his power to destroy all Shadowhunters forever, their only chance to defeat him is to fight alongside their eternal enemies. But can Downworlders and Shadowhunters put aside their hatred to work together? While Jace realizes exactly how much he's willing to risk for Clary, can she harness her newfound powers to help save the Glass City – whatever the cost?
Love is a mortal sin and the secrets of the past prove deadly as Clary and Jace face down Valentine in the third installment of the New York Timesbestselling series The Mortal Instruments.
5 out of 5 stars
Plot:
Clary's mother is in a coma-like sleep and Clary needs to find a way to save her. Magnus Bane, the Warlock, creates a portal into Alicante for Jace and the Lightwoods to go through. Clary tries to tag along, but Jace thinks otherwise. They run into some problems with the portal and Simon ends up getting taken through the portal to Alicante illegally. Problems occur with Jace bringing the vampire to the Shadowhunter city, and Clary finds herself drowning in a lake outside Alicante. Jace and Clary meet the Lightwood's cousins, Aline and Sebastion. Aline and Sebastion seem nice to them and they befriend the cousins. Clary and Jace are still siblings, and they can't deal with it. They love eachother in a more intimate way than siblings should. Valentine comes into play in this book and mysteries are revealed. So much happens in this book. This is my favorite of all the Mortal Instruments books. I love the unraveling of mysteries and I love finding everything out. Jace and Clary are so perfect together. I love what happens with Luke and Clary's mom, and what happens with Alec and his significant other. I love rereading these books because I pick up on so many things I'd forgotten. I can't wait to reread the others.
Characters:
Again, I love Jace and Clary, and Simon would be the perfect bestfrined. Simon is so loyal and helps Clary in any way she needs it, and supports all of her decisions. Isabelle and Alec woul dbe so cool to meet and be friends with. I absolutely HATE Valentine for what he did to Jace and Clary, and Luke is one of my all-time favorite characters. I love that he's so caring and loving to both Clary and her mom.
Who Would I Be?:
I would choose to be Isabelle yet again. She's such a cool person. She might have a short temper, but she's beautiful and she has a family that loves and accepts her. Alec would be my brother, and I would get to hang out with magnus and Clary all the time. How about yes.
Series:
City of Bones (The Mortal Instruments #1) – Cassandra Clare
City of Ashes (The Mortal Instruments #2) – Cassandra Clare
City of Fallen Angels (The Mortal Instruments #4) – Cassandra Clare
City of Lost Souls (The Mortal Instruments #5) – Cassandra Clare
City of Heavenly Fire (The Mortal Instruments #6) – Cassandra Clare