We Are the Goldens – Dana Reinhardt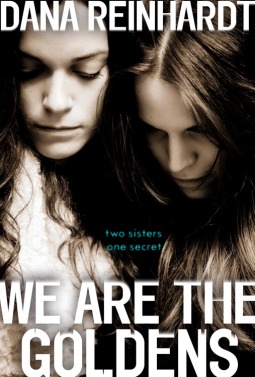 Title: We Are the Goldens
Author: Dana Reinhardt
Release Date: May 27, 2014
Publisher: Wendy Lamb Books
Format: ebook
Page Number: 208
Source: NetGalley
Nell knows a secret about her perfect, beautiful sister Layla. If she tells, it could blow their world apart.
When Nell and Layla were little, Nell used to call them Nellaya. Because to Nell, there was no difference between where she started and her adored big sister ended. They're a unit; divorce made them rely on each other early on, so when one pulls away, what is the other to do? But now, Nell's a freshman in high school and Layla is changing, secretive. And then Nell discovers why. Layla is involved with one of their teachers. And even though Nell tries to support Layla, to understand that she's happy and in love, Nell struggles with her true feelings: it's wrong, and she must do something about it.
2 out of 5 stars
Plot:
We Are the Goldens follows the Golden sisters, Layla and Nell. Layla is perfect to everyone including Nell. Nell is a freshman and Layla is a junior; the sisters are both on the soccer team, and Nell decides to try out for the school play. Nell only decides to try out because a guy she has a crush on has the lead role. She didn't try out for the female lead, but she got into the play. Nell's best friend is named Felix, and she has two dead boys talking to her. Layla gets into a "bad" situation, even though she believes that it's true love. Nell "falls in love" with her crush and they take things a little too far. Honestly this is all that happens in this book. This was a major let down for me. I got this from a publisher on NetGalley and I was super pumped. I've read Harmless – Dana Reinhardt, and sort of liked it, so I was excited to read another one of her books. It wasn't good. Why was she talking to these dead brothers? I honestly did not understand it. It never said the significance of these boys other than that the girls attended their fancy Christmas party every year. I don't get why Nell was so in love with a horrible boy. I don't get why Layla got roped into being in a relationship with a much older man. I strongly disliked how it was Nell talking like she was talking to Layla. Was Layla actually dead? Was she even there? I have no idea. Overall I wish the book was longer to finally sort some of the things out.
Characters:
Nell wasn't a horrible character to follow, but I didn't get why Layla was so mean to her. Nell didn't do anything to her. She didn't tell her secret, so why was she always so mad? Felix was the best part of the whole book. He was some comic relief, but I don't understand the point of the love declaration at the end. Layla was supposed to be perfect, but she was just rude to everyone. I don't get how you could fall in love like that. It was unnaturally fast and I don't understand why she did it. The whole story felt rushed with the love interests.
Who Would I Be?:
I guess I choose Nell. I didn't really like her though. She made bad choices and fell in love with a stupid boy. Felix seems like a good friend to have, though. I definitely wouldn't want to have Layla as my sister. I would totally ditch her and not pay attention to her, because really, who needs someone that mean in your life?
*Huge thanks to Wendy Lamb Books to sending this to me on NetGalley!*