City of Lost Souls (The Mortal Instruments #5) – Cassandra Clare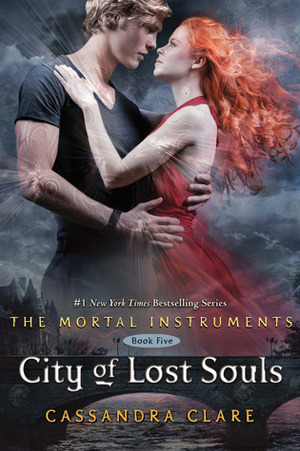 Title: City of Lost Souls
Author: Cassandra Clare
Release Date: May 8, 2012
Publisher: Margaret K. McElderry
Format: Hardcover
Page Number: 535
Source: Bookstore
What price is too high to pay, even for love? When Jace and Clary meet again, Clary is horrified to discover that the demon Lilith's magic has bound her beloved Jace together with her evil brother Sebastian, and that Jace has become a servant of evil. The Clave is out to destroy Sebastian, but there is no way to harm one boy without destroying the other. As Alec, Magnus, Simon, and Isabelle wheedle and bargain with Seelies, demons, and the merciless Iron Sisters to try to save Jace, Clary plays a dangerous game of her own. The price of losing is not just her own life, but Jace's soul. She's willing to do anything for Jace, but can she still trust him? Or is he truly lost?
Love. Blood. Betrayal. Revenge. Darkness threatens to claim the Shadowhunters in the harrowing fifth book of the Mortal Instruments series.
5 out of 5 stars
Plot:
Jace goes missing and the Clave sends out search parties to try and find him, but then a more important matter comes up. The search parties are called off and lessened, but of course, Clary tries to find her true love. Clary, being herself, goes off with a crazy plan after meeting with the faerie council and her friends. She decides to follow Jace and Sebastian in hope of finding something to help, but also be close to her boyfriend. She finds out some information, but loses the way to communicate with anyone. Simon, Isabelle, Magnus, and Alec get a weapon that can hurt only one of the two from the bond and relays the information to Clary. Blood is shed and Shadowhunters are killed. This book was an epic addition to the Mortal Instruments series. I liked this book, but City of Glass is still my favorite from the series. Clary is getting really irritating to me because she just rushes into everything without thinking. I know that's considered a good quality to some people, but it's just irritating sometimes. Now I finally get to start City of Heavenly Fire :)
Characters:
No new characters were introduced, really. Magnus is my new favorite character other than Isabelle and Jace. Magnus is the coolest person, well warlock, ever. I want him to be my best friend. He has sparks coming out of his fingers and he always wears glitter. I still love Isabelle, though. She shows her vulnerability in this one again, and she basically said that she's officially in love with Simon. It's perfect. Simon and Isabelle are my OTP because they're perfect together.
Who Would I Be?:
I would honestly choose to be Magnus. He is such a loving person and he helps everyone out all the time and he loves Alec so much. The way he calls Alec his boyfriend is perfect and precious. He's so in love. I love that he's in love. It's so cute. I'd also get to hang out with everyone all the time, which would be super cool.
Series:
City of Bones (The Mortal Instruments #1) – Cassandra Clare
City of Ashes (The Mortal Instruments #2) – Cassandra Clare
City of Glass (The Mortal Instruments #3) – Cassandra Clare
City of Fallen Angels (The Mortal Instruments #4) – Cassandra Clare
City of Heavenly Fire (The Mortal Instruments #6) – Cassandra Clare