City of Heavenly Fire (The Mortal Instruments #6) – Cassandra Clare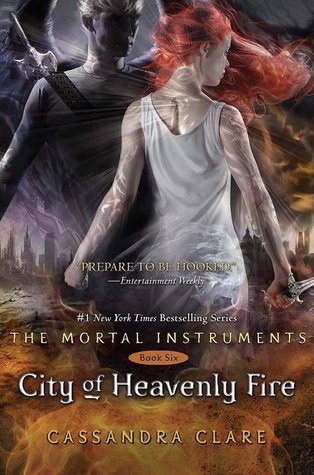 Title: City of Heavenly Fire (The Mortal Instruments #6)
Author: Cassandra Clare
Release Date: May 27, 2014
Publisher: Margaret K. McElderry Books
Format: Hardcover
Page Number: 725
Source: Bookstore
In this dazzling and long-awaited conclusion to the acclaimed Mortal Instruments series, Clary and her friends fight the greatest evil they have ever faced: Clary's own brother.
Sebastian Morgenstern is on the move, systematically turning Shadowhunter against Shadowhunter. Bearing the Infernal Cup, he transforms Shadowhunters into creatures out of nightmare, tearing apart families and lovers as the ranks of his Endarkened army swell.
The embattled Shadowhunters withdraw to Idris – but not even the famed demon towers of Alicante can keep Sebastian at bay. And with the Nephilim trapped in Idris, who will guard the world against demons?
When one of the greatest betrayals the Nephilim have ever known is revealed, Clary, Jace, Isabelle, Simon, and Alec must flee – even if their journey takes them deep into the demon realms, where no Shadowhunter has set foot before, and from which no human being has ever returned…
Love will be sacrificed and lives lost in the terrible battle for the fate of the word in the thrilling final installment of the classic urban fantasy series The Mortal Instruments!
5 out of 5 stars
Plot:
The Los Angeles Institute is attacked by Sebastian and the Endarkened Shadowhunters. Julian Blackthorn, his siblings, and Emma Carstairs escape unharmed to Idris. The father of the Blackthorns gets Turned by Sebastian, and the eldest Blackthorn, Helen, ends up taking care of her younger siblings until an uncle from London can come take care of them. Clary sees Emma Carstairs crying and upset and tries to comfort her in a big sisterly way and Clary doesn't know what to do with herself because Jace has heavenly fire living in his veins; therefore there is little touching and a miniscule amount of kissing. Big battles happen between the Shadowhunters and the Endarkened warriors, and the crew find themselves brought to an alternate dimension that resembles Hell. Demons live in this hellish pit, but the real reason Clary, Jace, Alec, Isabelle, and Simon are there? The Downworlders they love have been taken from them and held hostage. Magnus from Alec, Raphael from Simon, and Luke and Jocelyn from Clary. Simon doesn't love Raphael, but he has a big connection to him. How will they get out of this demon realm? Do they ever find Magnus, Jocelyn, Luke, and Raphael? What happens to Sebastian? Oh. My. Gosh. This series was so so good. This book was so beautifully written. How Cassandra Clare has woven all these little twists and tidbits of information into the story legitimately baffles me. I don't get how so many things can be put together to create such an amazing series. I am so grateful to have found these books and to have read them. I cannot wait to read all of Cassandra Clare's other books alone with whatever she will write in the future.
Characters:
At the beginning I got overwhelmed with all the new characters, but towards the middle I had sorted most of them out. Julian Blackthorn and Emma Carstairs are best friends, but I shipped them together so much. They would have been the cutest couple. I mean, they're 12, but whatever. Isabelle and Simon are still my OTP. Magnus and Alec are perfect for each other, and Jace and Clary really are a great couple. Luke and Jocelyn are so happy together and it makes me really happy just reading about them. Oh my gosh. The couples in this series. They love each other so much, but for such different reasons. I really enjoyed being introduced to new characters, though. The Blackthorns are a really interesting family and I hope that they're in the new series she's writing.
Who Would I Be?:
I would choose to be Emma Carstairs because she just got introduced to the story. I really love that she is best friends with Jules, it reminded me of Clary and Simon. I have always wished I had a bunch of siblings, and it would kind of be like that if I was Emma because she's always with the Blackthorn family. I think it would be fun to be just starting Shadowhunter training. Although, being Isabelle would be totally amazing. Isabelle is 100% BA and she loves Simon with all her heart, but she doesn't want to admit it. By the end of the book she knows how she wants everyone to react to her and Simon, so I thinks she is more willing to be public about her relationship. Her vulnerability is really apparent in this book compared to the others. I am so glad to have read these books :)
Series:
City of Bones (The Mortal Instruments #1) – Cassandra Clare
City of Ashes (The Mortal Instruments #2) – Cassandra Clare
City of Glass (The Mortal Instruments #3) – Cassandra Clare
City of Fallen Angels (The Mortal Instruments #4) – Cassandra Clare
City of Lost Souls (The Mortal Instruments #5) – Cassandra Clare