The Giver (The Giver Quartet #1) – Lois Lowry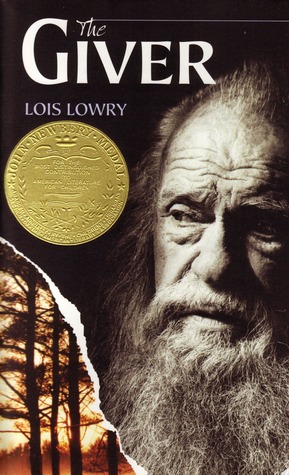 Title: The Giver
Author: Lois Lowry
Release Date: January 24, 1993
Publisher: Ember
Format: Hardback
Page Number: 179
Source: Walmart
Jonas' world is perfect. Everything is under control. There is no war or fear or pain. There are no choices. Every person is assigned a role in the Community. When Jonas turns twelve, he is singled out to receive special training from The Giver. The Giver alone holds the memories of the true pain and pleasure of life. Now, it is time for Jonas to receive the truth. There is no turning back.
5 out of 5 stars
Plot:
Jonas is eleven and lives in a futuristic world. He lives in a place where when you're born you are grouped with everyone born in that year and they become the people in your grade. At the age of One they are put with a family. Each year in December they have a ceremony. In this ceremony the whole grade/group of kids gets something new or gets a small thing changed. For one of the years they get their first bike, for another they get a button down shirt with buttons in the front instead of the back, but for the twelfth year they get told their occupation. After they get told what they will do for the rest of their lives, whether it be a laborer or someone who takes care of the Old, they begin training for their job. Every day after school they head to their job training. While everyone else is planning their future, Jonas is receiving memories from his instructor, The Giver. Jonas is the new Receiver. He takes some of the burden of the memories that have been passed down from all the Givers. He is gifted some of the good memories and is put through the pain of the bad memories in preparation to be the newest Giver. I loved this book. It was so beautifully written and wonderfully told. I wasn't sure how I was going to feel about this book, but I was hooked by chapter two. I think that this should be a book that is read by everyone. Read in schools for required reading. Read to children by parents. Read by everybody. It was amazing and cannot wait to read the other three in the quartet.
Characters:
Jonas was an awesome main character to follow and read about. I never got bored or irritated with anything he did at all. He was always so brave and courageous. The Giver was my favorite character, though. He was so wise and so smart because of all the memories he had. He got to read all the books to get more information. The books weren't allowed in society because knowledge was kind of like a weapon. He knew all the stories. He knew everything.
Who Would I Be?:
I would choose to be The Giver. He knew more than anyone and everyone combined in the quarantined utopia. He was so smart and so extremely wise, but he was also burdened with all the horrible memories. Sure he had nice and fun memories, but not enough to outweigh the bad. Because of Jonas he had an easier time with dealing with the harsh memories, but that would be so much to handle.
Series:
Gathering Blue (The Giver Quartet #2) – Lois Lowry
Messenger (The Giver Quartet #3) – Lois Lowry