To All The Boys I've Loved Before (To All The Boys I've Loved Before #1) – Jenny Han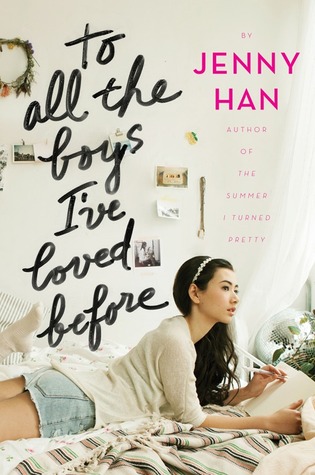 Title: To All The Boys I've Loved Before
Author: Jenny Han
Release Date: April 15, 2014
Publisher: Simon and Schuster
Format: Hardcover
Page Number: 355
Source: Bookstore
Lara Jean's love life goes from imaginary to out of control in this heartfelt novel from the New York Times bestselling author of The Summer I Turned Pretty series.
What if all the crushes you ever had found out how you felt about them… all at once?
Lara Jean Song keeps her love letters in a hatbox her mother gave her. They aren't love letters that anyone else wrote for her; these are ones she's written. One for every boy she's ever loved—five in all. When she writes, she pours out her heart and soul and says all the things she would never say in real life, because her letters are for her eyes only. Until the day her secret letters are mailed, and suddenly, Lara Jean's love life goes from imaginary to out of control.
5 out of 5 stars
Plot:
Lara Jean has loved 5 boys in her life. She set aside her feelings for each and every one of them by writing them a goodbye love letter. She kept all of these letters in a hatbox that her mother gave to her before she died. She writes the letters and pours all of her emotions into them, addresses them, then puts them in her hatbox. One day she finds out that the letters are sent to all five of the boys. One is sent back to her, one is sent to a boy who turns out to be gay, one of them never responds, one of them is sent to the cool kid of her grade, and one is sent to her sister's boyfriend.The cool guy, Peter, just got dumped by his girlfriend and confronts Lara Jean about the letter. They decide to fake going out to cover up the feelings for her sister's boyfriend, Josh, who lives next door. They create a contract and act like a couple because he wants to make his ex-girlfriend jealous, and she doesn't want her sister's boyfriend to know she has feelings for him. It's all going well until she realizes that she has feelings for him again. She doesn't know if he actually likes her or if it's just the act. She's too chicken to actually tell him that her goodbye love letter didn't work… I loved this book so much. Jenny Han is an amazing writer. Her books are so real. The way the relationship was formed was so beautiful. I read this book in one day. It was one of the best books I've ever read in my life.
Characters:
Lara Jean is the main character and her love interest is Peter, the cool kid in school. Lara Jean lives with her two sisters, Margot and Kitty, and her father, Danny. She is very family oriented and when her older sister Margot goes to college abroad, she becomes the oldest girl in the household. Lara becomes the mother-figure to Kitty and takes responsibility of all the things Margot did before she left along with all her responsibilities. I honestly loved Lara Jean. I loved the way she interacted with her family and Peter. Peter is the most perfect human. Book crush…check.
Who Would I Be?:
Obviously I would choose Lara Jean. She's so cute and she has Peter all to herself. Peter is the perfect match for her. Everything about him is perfect for her. He's nice and he loves her. The steps to there relationship were absolutely perfect. Thank you to the authors that are talented and make characters so perfectly flawed. I love all of you who can create a person in my head. I fell in love with Peter's personality. You can't see a character with your eyes. You have to imagine them. That's the best way to fall in love; personality and character over looks.