Just One Day (Just One Day #1) – Gayle Forman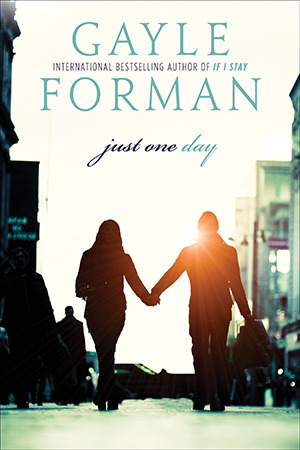 Title: Just One Day
Author: Gayle Forman
Release Date: January 8, 2013
Publisher: Speak
Format: Paperback
Page Number: 400
Source: Bookstore
Allyson Healey's life is exactly like her suitcase—packed, planned, ordered. Then on the last day of her three-week post-graduation European tour, she meets Willem. A free-spirited, roving actor, Willem is everything she's not, and when he invites her to abandon her plans and come to Paris with him, Allyson says yes. This uncharacteristic decision leads to a day of risk and romance, liberation and intimacy: 24 hours that will transform Allyson's life.
A book about love, heartbreak, travel, identity, and the "accidents" of fate, Just One Day shows us how sometimes in order to get found, you first have to get lost. . . and how often the people we are seeking are much closer than we know.
The first in a sweepingly romantic duet of novels. Willem's story—Just One Year—is coming soon!
4 out of 5 stars
Plot:
Allyson isn't the adventurous type of girl at all, She has always planned everything, and her Europe trip after graduation wasn't any different. Her parents gift her a trip with an organized education group. She goes with her best friend, and she follows all the rules and doesn't go to the pubs with the rest of the group. The group is in line for Hamlet when some actors and actresses come up to them with flyers for the play they're performing. The two friends ditch the long line and follow the directions to an outdoor clearing. The group stars performing, but this is a different kind of performance. The actors are running around and acting instead of staying in one spot. Allyson and her best friend are clapping after they're done performing and one of the actors flips a coin around his knuckles then sends it flying toward Allyson. She catches it then claps even more. Allyuson and her friend go back to the hotel and fall asleep so they can get up for their train ride back to London when the actor from the performance comes up to them. The man who comes up to the pair is named Willem. Allyson recognizes him as the man who threw the coin at her during the performance. "Will you go to Paris with me?" Willem asks Allyson. She doesn't know what to do… I mean what's just one day? This story was a little far fetched, though.
Characters:
I liked Allyson. I mean she was a perfectly nice character, but what nineteen year old girl just goes to Paris with a complete stranger. There were some character flaws with that. She was a little too trusting with strangers. I've never been to Paris, but I'm pretty sure that no matter how charming you are, locals will not be that nice and they won't take you to tulip farms at 5:30 in the morning. Willem was perfect for that one day though :)
Who Would I Be?:
I would choose Allyson because she got to go to Europe. I want to live in Europe more than anything. I live in a small town in the midwest United States. I want to go somewhere, and that somewhere happens to be Europe. I will go to Europe and live there. It's going to happen.
Series:
Just One Year (Just One Day #2)
Just One Night (Just One Day #2.5)