Paper Towns – John Green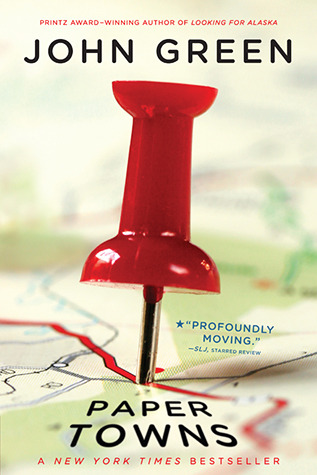 Title: Paper Towns
Author: John Green
Release Date: October 16, 2008
Publisher: Speak
Format: Paperback
Page Number: 305
Source: Bookstore
Two-time Printz Medalist John Green's New York Times bestseller, now in paperback!
Quentin Jacobsen has spent a lifetime loving the magnificently adventurous Margo Roth Spiegelman from afar. So when she cracks open a window and climbs back into his life — dressed like a ninja and summoning him for an ingenious campaign of revenge — he follows.
After their all-nighter ends and a new day breaks, Q arrives at school to discover that Margo, always an enigma, has now become a mystery. But Q soon learns that there are clues — and they're for him. Urged down a disconnected path, the closer he gets, the less Q sees of the girl he thought he knew.
4 out of 5 stars
Plot:
Quentin Jacobsen and his neighbor Margo Roth Spiegelman go to the park one day when they're ten and find a dead man. They later find out that he killed himself, but still wonder why it was them that found him. Q and Margo stop speaking about it and eventually drift away from each other, but one night Q sees Margo outside his window tapping on the glass. He's puzzled when he sees her, but he lets her in and she immediately says that she needs his mom's car. It's the middle of the night, but he agrees to drive her around because he's been in love with her since they were ten. First they go to the grocery store and get fish and a hair removal gel kit and he just goes in and doesn't ask why. He asks where she needs to go, and she tells him she has a couple errands. They drive around in the middle of the night sabotaging things and spray painting letters on houses and cars. The next day he wonders what he'll say to her, but she doesn't show up. Huh, weird. Understandable because they were out late, but then she doesn't come for multiple days in a row. He feels like she has left clues for him so he follows them and finds that she went to a paper town because she was sick of all of the paper people living their paper lives… This was a beautiful book. John Green has a writing style that is so perfect and so unique. This is a book that needs deep thinking to understand. If you're reading this book to finish, you won't understand it or like it.
Characters:
Quentin was such a fun character to follow. He was the perfect example of a nerd. His best friends are in band, he's weak, and he's smart. He was perfectly flawed. Margo was an interesting character. She was a stereotype popular girl by not socializing with the nerds, but she was so much deeper than just a popular cheerleader. She was beautifully flawed as well.
Who Would I Be?:
I would choose Quentin because he is a nerd. I love nerds. They are the ones who don't peak in high school. They will succeed in life because they're smart, but so under appreciated. Honestly nerds are the best people. Always fall for the nerd.