The Pompey Hollow Book Club – Jerome Mark Antil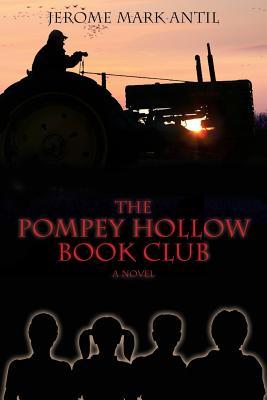 Title: The Pompey Hollow Book Club
Author: Jerome Mark Antil
Release Date: December 7, 2011
Publisher: Little York Books
Format: Paperback
Page Number: 288
Source: Sent for review via author
A Novel First Edition "Mark Twain meets the Greatest Generation!The Pompey Hollow Book Club is the best kind of novel: charming, but with teeth. The narration exudes an experienced innocence with characters at once empathic and courageous. One might be tempted to call its setting a bygone era had this era not fashioned our world… this work moved me deeply." –Stuart Horwitz, Book Architecture
3 out of 5 stars
Plot:
Jerry Antil is just a young boy at the beginning of this book. He lives with his dad, his mom, his brothers, Dick and Mike, and his beagle-cocker spaniel mix. Jerry is the youngest of all the brothers and Mike is the oldest. The Antil family moves into a new home in Delphi Falls from Cortland, New York. Jerry thinks he will hate living in the country, but his mom tells him one morning to go over to Farmer Parker's house to collect some chicken eggs. Jerry watches Farmer Parker milk the cows after he calls them into the barn and then the farmer shoes the young boy how to get eggs from the chickens. Jerry thanks the farmer then heads home. Jerry goes exploring and finds that there are waterfalls in the woods right behind his house. He continues to explore and familarize himself with the woods. Jerry and Dick begin school and Jerry gets new friends that he sits with at lunch every day. Holbrook is his best friend and he introduces him to Mary and Barber who all start The Pompey Hollow Book Club, but this book club isn't for reading. This club is for secret meetings to figure out plans for ten-year-old problems. Jerome Mark Antil contacted me and asked if I would read his books, The Pompey Hollow Book Club and The Book of Charlie. I was skeptical about starting this book because it takes place after the war, but I was pleasantly surprised. I honestly wasn't expecting to like this book, but I did. This book was full of adventure and it was a really cute coming of age story.
Characters:
There were so many characters in this book, but they weren't hard to keep straight. Jerry and Mary and Holbrook were my favorites, though. Mary was basically the only girl in this book and Holbrook was Jerry's best friend. Mary was so sweet and so smart for being only 10 or 11. Holbrook was just a goofy best friend. I really enjoyed all the characters.
Who Would I Be?:
I would choose Mary without a doubt. She is so cute and thought everything through. She got to be part of the club and it was adorable how she went about some things. I really loved Mary in this book.
Huge thanks to Jerome Mark Antil for sending me this book!