Of Mice and Men – John Steinbeck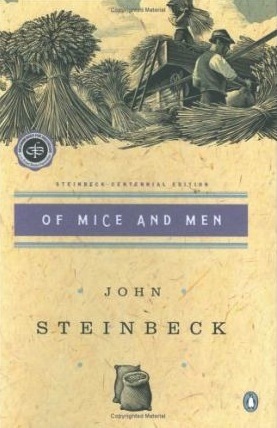 Title: Of Mice and Men
Author: John Steinbeck
Release Date: January 8, 1937
Publisher: Penguin Books
Format: Hardcover
Page Number: 118
Source: School book
The tragic story of the complex bond between two migrant laborers in Central California. They are George Milton and Lennie Small, itinerant ranch hands who dream of one day owning a small farm. George acts as a father figure to Lennie, who is a very large, simple-minded man, calming him and helping to rein in his immense physical strength.
2 out of 5 stars
Plot:
Lennie and George leave their hometown of Weed with the vision of owning a house and having rabbits. Lennie is a full-grown child, really. He acts like a kid so George has to parent him and keep him out of trouble. Lennie has an obsession with petting soft things so when he finds mice he keeps them in his pocket and pets them and plays with them until they die. He didn't mean to kill them, but he got irritated when they bit him so he squashed their heads. He didn't mean to do anything to harm them, and he didn't do anything out of meanness, either. George and Lennie find themselves working on a farm trying to get money for their house and rabbits. They meet other workers at their job and things escalate very quickly. Why does Lennie always get into trouble? Why does George always have to reassure Lennie about the farm they're going to get? Honestly, this wasn't a great book. I don't really know what to think of it. I didn't hate it right away, but after a while I started to not like it. I hated the ending. It was seriously so abrupt, and I cannot get emotionally attached to characters in 118 pages. I was disappointed with this book.
Characters:
Lennie and George are the main characters of this book. Lennie was an okay character, but George was really mean to him. It seemed like George hated Lennie at times, but he did actually care about him. It was a pretty confusing relationship. Curley was the owner of the farm and his wife was slutty and always followed the guys around. The parts with her were just very irritating to read about.
Who Would I Be?:
Hmm. I would choose to be George, I guess. He's so bipolar, though. I don't like him, but he was one of the only characters who actually had some depth and story behind them. He cared about Lennie so that made him alright.