A Discovery of Witches (All Souls Trilogy #1) – Deborah Harkness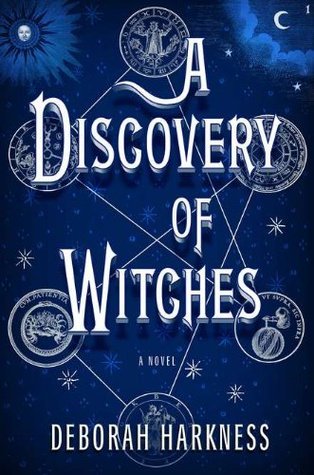 Title: A Discovery of Witches (All Souls Trilogy #1)
Author: Deborah Harkness
Release Date: December 27, 2011
Publisher: Penguin Books
Format: Paperback
Page Number: 579
Source: Book Store
Book one of the New York Times–bestselling All Souls trilogy—"a wonderfully imaginative grown-up fantasy with all the magic of Harry Potter and Twilight" (People)
Deborah Harkness's sparkling debut, A Discovery of Witches, has brought her into the spotlight and galvanized fans around the world. In this tale of passion and obsession, Diana Bishop, a young scholar and a descendant of witches, discovers a long-lost and enchanted alchemical manuscript, Ashmole 782, deep in Oxford's Bodleian Library. Its reappearance summons a fantastical underworld, which she navigates with her leading man, vampire geneticist Matthew Clairmont.
Harkness has created a universe to rival those of Anne Rice, Diana Gabaldon, and Elizabeth Kostova, and she adds a scholar's depth to this riveting tale of magic and suspense. The story continues in book two, Shadow of Night, and concludes with The Book of Life, coming from Viking in July 2014.
3 out of 5 stars
Plot:
Diana Bishop, a scholar at Oxford, studies alchemy. She lives (basically) in the school library looking at and reading ancient alchemist's manuscripts, when she finds an enchanted manuscript. This enchanted manuscript is enchanted by a witch's spell. Diana "unlocks" the manuscript and reads through the parts of it that she needs, then sends it back to the library. No big deal, right? Mmmm. Sure. She's a very powerful witch who has ignored her magic her entire life. After returning the manuscript some strange things start happening. A vampire by the name Matthew Clairmont takes interest in her. He wants, and has wanted, the manuscript she unlocked for centuries. He tries to persuade her to call it again, and succeeds. When she tries to call it back, though, she can't access it. Why can't a powerful witch like herself not call the manuscript back? Why has the vampire taken such an interest in her? I. Am. Finally. Done. With. This. Book. Oh my gosh. Two long months of reading this not-so-long book. I have absolutely no idea why it took me so long to read it. I didn't hate this book, I just couldn't get into it. There were quite a few things that really irritated me about this book. Of course the vampire and witch fall in love. Yay for more forbidden love, but what really irritated me was that this book took place over a matter of a few weeks. What. So much happens and it could have easily been marked in a full year.
Characters:
Diana and Matthew are the main characters in this book and they both irritated me at times. Neither were really strong characters and they had no story behind them. Yes they had childhood stories, but they weren't my favorite. This book could have been done about halfway through. Sarah and Em are Diana's aunts, and they were my favorite characters.
Who Would I Be?:
I would choose to be either Sarah or Em. They were my favorite characters by far. I loved both of them a lot and they had a lot of witty banter with each other and it was fun to read. I would definitely be either of them in this story.