The Power of Half: One Family's Decision to Stop Taking and Start Giving Back – Kevin Salwen and Hannah Salwen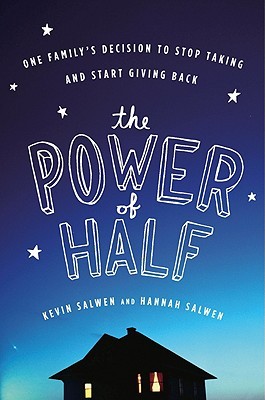 Title: The Power of Half: One Family's Decision to Stop Taking and Start Giving Back
Author: Kevin Salwen and Hannah Salwen
Release Date: February 10, 2010
Publisher: Houghten Miffin Harcourt
Format: Hardcover
Page Number: 256
Source: Bookstore
It all started when fourteen-year-old Hannah Salwen had a eureka moment. Seeing a homeless man in her neighborhood at the same instant she spotted a man driving a glistening Mercedes, she said, "Dad, if that man had a less nice car, that man there could have a meal."
Until that day, the Salwens had been caught up like so many of us in the classic American dream—providing a good life for their children, accumulating more and more stuff, doing their part to help others but not really feeling it. So when Hannah was stopped in her tracks by this glaring disparity, her parents knew they had to act on her urge to do something. As a family, they made the extraordinary decision to sell their Atlanta mansion, buy a house half its size, and give half of the sale price to a worthy charity. At first it seemed outlandish: What, are we crazy?Then it became a challenge: We are totally doing this. Their plan eventually took them across the globe and well out of their comfort zone. In the end they learned that they had the power to change a little corner of the world. And they found themselves changing too.
As Kevin Salwen says, "No one else is nuts enough to sell their house," but what his family discovered along the way will inspire countless others, no matter what their means or resources are. Warm, funny, and deeply moving, The Power of Half is the story of how one family grew closer as they discovered that half could be so much more.
4 out of 5 stars
Plot:
Would you sell your house and down size to half the space to help people who are less fortunate? Many wouldn't, but the Salwen family decided to give back to their community, their country, and their world. It all began when Hannah Salwen saw a an while riding in the car with her dad. The man was obviously homeless, so Hannah said, "Dad, if that man had a less nice car, then that man could have a meal." Referring to a man with a fancy car and the homeless man. Kevin Salwen looked at his incredulously, and they continued home to tell Joseph and Joan (son and wife of Kevin). The father daughter team told their story and then the family gets to talking and finally decide on a life-altering decision. They were going to sell their house, buy one half the size, then figure out what to do with the money. The children of the family finally get a say in family matters and they decide to donate some money to a hunger organization and do something. The Salwens had always done things to help around the community from helping in soup kitchens and food pantries, to building houses for Habitat for Humanity. They wanted to help, not just think about helping, so they did. This book was really great, and very inspiring. It made me want to travel to a foreign place and help the people there. I've had dreams of going to Africa and helping kids there because of this book. I can wish to have an impact like this family has made on the world.
Characters:
This is a true story, so it was told from the family's perspective. Kevin was mainly telling their journey, but there were excerpts from Hannah. I really liked the parts that she wrote because they told some family activities you can do. This book was very family oriented, and that made me happy because not many books are about families getting closer.
Who Would I Be?:
I would choose to be Hannah, because I am closest in age to her, well when this book was written. She was very easy to relate to even though she wrote a few parts. I loved watching every member of this family grow, along with growing together. It was a very inspiring story.