American Born Chinese – Gene Luen Yang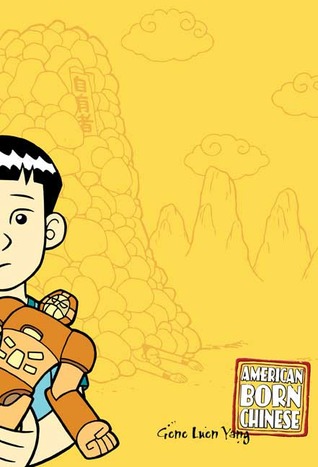 Title: American Born Chinese
Author: Gene Luen Yang
Release Date: September 5, 2006
Publisher: First Second
Format: Paperback
Page Number: 235
Source: Library
All Jin Wang wants is to fit in. When his family moves to a new neighborhood, he suddenly finds that he's the only Chinese American student at his school. Jocks and bullies pick on him constantly, and he has hardly any friends. Then, to make matters worse, he falls in love with an all-American girl…
Born to rule over all the monkeys in the world, the story of the Monkey King is one of the oldest and greatest Chinese fables. Adored by his subjects, master of the arts of kung-fu, he is the most powerful monkey on earth. But the Monkey King doesn't want to be a monkey. He wants to be hailed as a god…
Chin-Kee is the ultimate negative Chinese stereotype, and he's ruining his cousin Danny's life. Danny's a popular kid at school, but every year Chin-Kee comes to visit, and every year Danny has to transfer to a new school to escape the shame. This year, though, things quickly go from bad to worse…
These three apparently unrelated tales come together with an unexpected twist, in a modern fable that is hilarious, poignant and action-packed.American Born Chinese is an amazing rise, all the way up to the astonishing climax–and confirms what a growing number of readers already know: Gene Yang is a major talent.
3 out of 5 stars
Plot:
This book is based off the Chinese folk tale of Sun Wukong (The Monkey King) and it is split up into three separate stories. The first story is about the Monkey King, the second is about the child of two immigrants that moves from Chinatown in San Francisco to an all white suburb, and the last one is about a boy with a Chinese cousin that comes to visit each year. The part about the Monkey King deals with being too full of yourself for your own good. The Monkey King learns and masters many difficult Kung Fu skills, just so he can try and be a god-like figure. Tze-Yo-Tzuh is the creator of the world, and he sets the Monkey King straight. The Monkey ends up being put in a tough spot to get out of, and only his ego is keeping him there. The second part is about Jin Wang, the boy with immigrant parents. All he wants is to fit in at his new school. He only has one friend, Wei-Chen, who encourages him to go after his crush. The final part is about Danny; he's living the American Dream, other than having his cousin, Chin-Kee, come once a year to embarrass him at school. All the parts add up to one beautifully written story. I felt that something was missing from this book, but I can't place what it is. I enjoyed this book and finished it quickly, but something was lacking. It is very well written, and I understand why it's won so many awards. This book put a new perspective on racial discrimination, while still being able to tell a Chinese folk tale. I enjoyed reading this, but I'm not sure if I like graphic novels. I really loved the artwork in this one, though. There was lots of color and the illustrations were beautiful.
Characters:
The main characters were the Monkey King, Jin Wang, and Danny. The Monkey king got on my nerves a bit because he had such a big ego, and he had to wait 500 years just because he was being stubborn and stupid. Jin Wang was my favorite character because he was just a normal teenage boy who was awkward around girls and ended up getting bullied. He goes through a lot just because of his race; he was just like everyone else, so I don't get why he was picked on. I don't understand why racial discrimination is still happening; it hurts my heart knowing that people get bullied because of something they can't control. Finally was the part about Danny; I loved Danny, as well. He was, again, just a normal teenage boy who was just going through the daily struggles of school.
Who Would I Be?:
I would choose to be Jin Wang because he's my favorite character. He is so awkward an I loved that because it was so real. Everyone is awkward. I am the queen of being awkward, so I related to him more than any of the other characters.