Red Queen (Red Queen #1) – Victoria Aveyard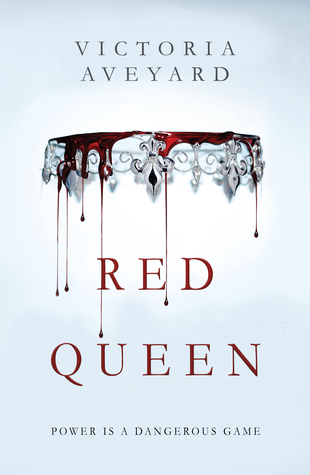 Title: Red Queen (Red Queen #1)
Author: Victoria Aveyard Release Date: February 10, 2015
Publisher: Orion
Format: Hardcover
Page Number: 320
Source: Book Store
The poverty stricken Reds are commoners, living under the rule of the Silvers, elite warriors with god-like powers.
To Mare Barrow, a 17-year-old Red girl from The Stilts, it looks like nothing will ever change.
Mare finds herself working in the Silver Palace, at the centre of
those she hates the most. She quickly discovers that, despite her red blood, she possesses a deadly power of her own. One that threatens to destroy Silver control.
But power is a dangerous game. And in this world divided by blood, who will win?
4 out of 5 stars
Plot:
There are Reds and there are Silvers. Both human, some non-distinctly human. Reds are commons folk with red blood, and Silvers have abilities along with silver blood. The Silvers and the Reds go to a war that's been going on for one hundred years; Reds are forced to fight, Silvers have the choice. The main character, Mare, lives in a small, very poor, Red village with her family. Her three older brothers were sent to war; her sister is the only chance for Mare and her family because of her special embroidery skills. Mare is almost to the age where she'll be sent to war, just like her brothers. Mare's best friend, Kilorn, is safe from being sent away because of his apprenticeship. He's completely safe until his master takes a fatal fall. Mare tries to find a way to save him, just like she always does, and actually does find a way. She needs to get enough money to send him away in secret with the black market workers. She steals directly from people's pockets but she's interrupted by a boy that tells her pick pocketing is rude. He throws a coin worth a fortune her way any way, though. Soon she finds herself as a server in the Silver palace. She goes through the motions she's supposed to, but finds something out that freaks her out. Mare is different from most of the Reds. She has an ability just like one of the Silvers. Why is she so special? What makes her so different?
It is so refreshing to read a good book. This was so good, and I loved it. The cover is gorgeous and it really does represent the book quite well. The reason this didn't get 5 stars was because it was very predictable. There were a lot of things very similar to The Hunger Games and Divergent. I understand that it is a dystopian world, so some things will be quite similar, but there was a lot that was the same. There were a lot of things that were completely different, though. I loved that the Silvers had powers and that the blood type differentiated the people. I loved (and hated) the characters; the world building was beautiful. Aveyard really is a fantastic writer. I don't know if I can wait however long it is for the next book to come out!
Characters:
Mare was the main character, and I liked her. She was powerful and vulnerable, and very sassy. She couldn't really hold her tongue a lot of the time, but I liked that about her. She was the perfect mixture of everything. I don't know what I would have done with myself if I were just thrown into the mix with a bunch of Silvers. I would definitely freak out. A lot. She was calm a lot of the time and she rolled with the punches. I would have had a mental breakdown, more than likely. Maven and Cal. Oh man. They were perfect, well mostly perfect. *cough cough*
Who Would I Be?:
I would choose to be Mare because she was very strong when she probably could have been a baby. I would have freaked out and gotten very cold, but she still opened her heart up. I loved that she was different, not just characteristic-wise. Some of her choices were questionable, but she really knows how to pick the guy. *cough* Maven. I just. I really love(d) him. I highly suggest this book! You will get hooked.
Series: