Shadow Scale (Seraphina #2) – Rachel Hartman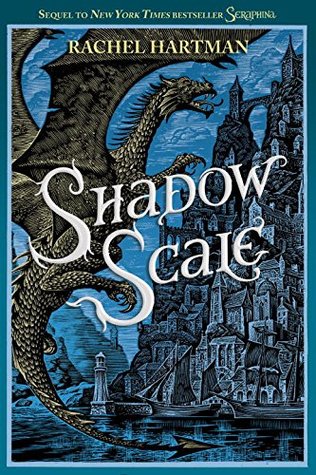 Title: Shadow Scale (Seraphina #2)
Author: Rachel Hartman
Release Date: March 10, 2015
Publisher: Random House Children's Books
Format: ARC
Page Number: 608
Source: book store
Seraphina took the literary world by storm with 8 starred reviews and numerous "Best of" lists. At last, her eagerly awaited sequel has arrived—and with it comes an epic battle between humans and dragons.
The kingdom of Goredd: a world where humans and dragons share life with an uneasy balance, and those few who are both human and dragon must hide the truth. Seraphina is one of these, part girl, part dragon, who is reluctantly drawn into the politics of her world. When war breaks out between the dragons and humans, she must travel the lands to find those like herself—for she has an inexplicable connection to all of them, and together they will be able to fight the dragons in powerful, magical ways.
As Seraphina gathers this motley crew, she is pursued by humans who want to stop her. But the most terrifying is another half dragon, who can creep into people's minds and take them over. Until now, Seraphina has kept her mind safe from intruders, but that also means she's held back her own gift. It is time to make a choice: Cling to the safety of her old life, or embrace a powerful new destiny?
1 out of 5 stars
Plot:
This is the second book int eh Seraphina series. I didn't like Seraphina; it was okay, but I really struggled through this one. This book took absolutely forever to read. Anyway, this book is about a half-human-half-dragon girl named Seraphina. She decides to gather her other half-breeds and create an odd sort of family for herself. Stuff goes down and Seraphina goes on this journey to try and find her friends. Bad things happen, and they find out that one of the half-breeds is really evil. In the end they figure everything out and all is at peace.
That is all that happens in this entire book. Ugh. I really disliked this book. A whole lot, actually. 600 pages of random crap happening that has nothing to do with the resolution of the story. I had so many issues with this book, and didn't think there were many good things in it. This book had me in a multiple month long reading slump. Just a disclaimer here. A lot of people really liked this book. This is just my opinion. You can go and give it a try; I'm not telling you to never read Rachel Hartman's books, but they were not for me at all. I mean, just putting that out there.
Characters:
Seraphina was the main character, but she wasn't anything extraordinary. She wasn't awful, but there weren't many redeeming qualities about her. She loved this guy. He loved her, but nothing happened between them. Let the romance brew! Abdo was my favorite because he was cute. He actually reminded me of my little brother.
Who Would I Be?:
I guess I'd be Seraphina if I had to choose. Again, I didn't hate her, but she wasn't cool. I wish more would have happened in this book. It was a really monotone. The. Whole. Way. Through.
Series:
Seraphina (Seraphina #1) – Rachel Hartman