The Darkest Part of the Forest – Holly Black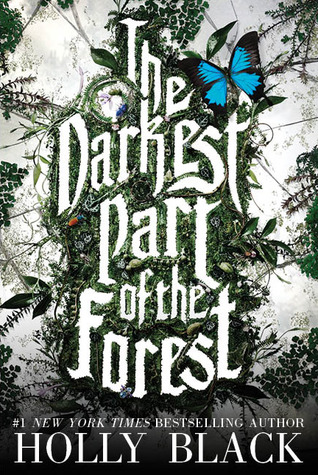 Title: The Darkest Part of the Forest
Author: Holly Black
Release Date: January 13, 2015
Publisher: Little Brown Books for Young Readers
Format: Hardcover
Page Number: 324
Source: book store
Children can have a cruel, absolute sense of justice. Children can kill a monster and feel quite proud of themselves. A girl can look at her brother and believe they're destined to be a knight and a bard who battle evil. She can believe she's found the thing she's been made for.
Hazel lives with her brother, Ben, in the strange town of Fairfold where humans and fae exist side by side. The faeries' seemingly harmless magic attracts tourists, but Hazel knows how dangerous they can be, and she knows how to stop them. Or she did, once.
At the center of it all, there is a glass coffin in the woods. It rests right on the ground and in it sleeps a boy with horns on his head and ears as pointed as knives. Hazel and Ben were both in love with him as children. The boy has slept there for generations, never waking.
Until one day, he does…
As the world turns upside down, Hazel tries to remember her years pretending to be a knight. But swept up in new love, shifting loyalties, and the fresh sting of betrayal, will it be enough?
4 out of 5 stars
Plot:
Hazel is just your average teenage girl, except she lives in an enchanted town. Everything is enchanted by faeries. Not fairies like Tinkerbell, but evil faeries. Hazel and her brother, Ben, are, like every other teenager in this town, obsessed with the faerie in the glass coffin. The boy of the fey has been entombed in a glass coffin for centuries, but no one knows why. One morning everyone freaks out because the glass has been broken, and that same morning Hazel wakes up with glass shards in her hands and dirt on her feet. It seems like everyone is skeptical of faeries except for Hazel and Ben. The siblings are best friends with a faerie boy, Jack. Hazel has had a crush on Jack for as long as she can remember, but Ben doesn't know. Ben has been in love with the entombed boy since the beginning of time, so when they find out he's been broken out, they decide they need to find him. All is well until Hazel finds out she's been leading a different life than she once thought.
I really enjoyed this book! I absolutely loved the magical elements to this book and the twist Holly Black took on it. The only reason I gave it four stars instead of five was because the end seemed rushed. I love when the resolution to the conflict is drawn out a little longer. All the loose ends were tied up nicely, though.
Characters:
Totally ship Hazel and Jack. They're absolutely perfect. I also ship Ben and Severin even though their relationship seemed a little rushed. I loved the part at the end where Severin tells Ben how he feels. If you've read this book you know what I'm talking about! It was just perfectly worded; I loved it.
Who Would I Be?:
I would love to be Jack because he's absolutely wonderful. I love him; he's sassy and the perfect match for Hazel. I don't know how I feel about the faerie mortality thing, though. I'm kind of glad that the epilogue didn't talk about the distant future. The epilogue was perfect and just reiterated the fact that Jack and Hazel are perfect.