The 100 (The Hundred #1) – Kass Morgan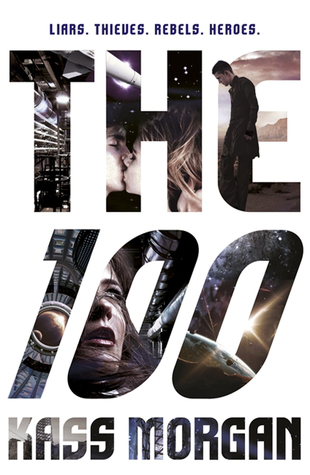 Title: The 100 (The Hundred #1)
Author: Kass Morgan
Release Date: January 1, 2013
Publisher: Little Brown and Company
Format: Hardcover
Page Number: 323
Source: library
NO ONE HAS SET FOOT ON EARTH IN CENTURIES – UNTIL NOW.
Ever since a devastating nuclear war, humanity has lived on spaceships far above Earth's radioactive surface. Now, one hundred juvenile delinquents – considered expendable by society – are being sent on a dangerous mission: to recolonize the planet. It could be their second chance at life… or it could be a suicide mission.
Clark was arrested for treason, though she's haunted by the memory of what she really did. Wells, the chancellor's son, came to Earth for the girl he loves – but will she ever forgive him? Reckless Bellamy fought his way onto the transport pod to protect his sister, the other half of the only pair of siblings in the universe. And Glass managed to escape back onto the ship, only to find that life there is just as dangerous as she feared it would be on Earth.
Confronted with a savage land and haunted by secrets from their pasts, the hundred must fight to survive. They were never meant to be heroes, but they may be mankind's last hope.
5 out of 5 stars
Plot:
100 delinquent children are sent down to Earth for the first time in three centuries. The adults in their spaceship need to know if it's safe to send people down to the surface of Earth, so why not send their own kids. Great idea. Radiation levels were high on Earth for hundreds of years, but they think Earth could be habitable again; they're running out of oxygen up in space so they need an alternative. 100 kids are sent down to the Earth; they land, with some casualties and quite a few injuries. people and supplies are thrown from the spacepod; the most important of those supplies – the medical kit – is flung out. Clarke, Wells, and Bellamy are the three main characters on the surface but Glass is still on the ship. How are the unequipped kids supposed to survive? What are they going to find on Earth?
This is honestly one of the best books I've ever read. I loved the show on CW, but never got to finish the series because it wasn't all on Netflix. This is such a unique story with so many different elements to it; there is romance and sci-fi and dystopian, it's just great. I loved this book. I think a lot of people could really enjoy this book. Even though there is romance in it, the romance doesn't overwhelm the story line. There were those moments that you just had to put the book down and "aww" for a little while, then pick up the book and finish it in a day… I thought that since I watched the show that I would know what was going to happen, but I was wrong. The book and the TV show were just different enough that it kept me in suspense the whole time, but similar enough that I had the same feelings while reading it as I did watching the show. I highly, highly suggest reading this book; I finished it in a day…
Characters:
Clarke is the problem solver who was a doctor's apprentice. She becomes the doctor down on Earth. Wells is still in love with Clarke even though they'd broken up a while ago. He is the Chancellor's son, so he tries to become the leader of the group. Bellamy came down to Earth to keep Octavia, his sister, safe from harm. He's the trouble maker and major flirt. Glass escaped the spacepod before it was launched to go with her boyfriend, Luke. All the characters are great because they're all so different. It's a four person POV and I usually hate when the story is told from too many perspectives because I can never tell who's who, but this one was executed very nicely.
Who Would I Be?:
I would most definitely be Clare. She's my favorite from both the book and the show. She and Bellamy… oh my gosh. OTP. Major ship. I love them apart, but they're absolutely perfect together. She saves lives and holds a lot of power over everyone because she's a realist and she's reasonable. I like to think that if I was put into this situation that I would be able to help in some way. We have a lot of similar ideas on things.
Series: