Day 21 (The 100 #2) – Kass Morgan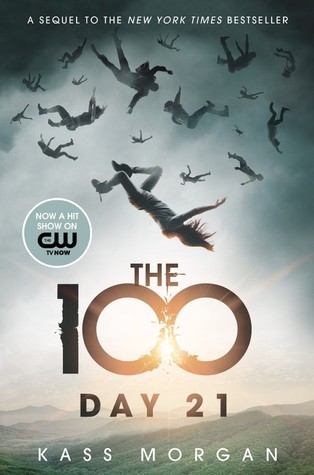 Title: Day 21 (The 100 #2)
Author: Kass Morgan
Release Date: January 1, 2014
Publisher: Little Brown and Company
Format: Hardcover
Page Number: 320
Source: library
No one has set foot on Earth in centuries — until now.
It's been 21 days since the hundred landed on Earth. They're the only humans to set foot on the planet in centuries…or so they thought. Facing an unknown enemy, Wells attempts to keep the group together. Clarke strikes out for Mount Weather, in search of other Colonists, while Bellamy is determined to rescue his sister, no matter the cost. And back on the ship, Glass faces an unthinkable choice between the love of her life and life itself.
In this pulse-pounding sequel to Kass Morgan's The 100, secrets are revealed, beliefs are challenged, and relationships are tested. And the hundred will struggle to survive the only way they can — together.
5 out of 5 stars
Plot:
Clarke, Bellamy, Wells, and the other members from the first drop ship have been on Earth for three weeks now. Clarke knows about radiation poisoning and understands that some major symptoms start to show on day 21. This is why she's so scared when her friends fall ill on this day. She has radiation poisoning pills in the medical kit, but knows they will kill them if it isn't radiation that is making them sick.m She holds off giving them pills until more tell-tale signs of radiation poisoning start to surface. Meanwhile, Wells has captured an Earthling. A young girl named Sasha was found spying on their camp, so they've been holding her captive trying to get information out of her. Bellamy automatically freaks out yelling and wondering where his sister is, so naturally Sasha doesn't talk to him. Bellamy leaves and Sasha talks to Clarke; they begin to see the other side of things. They learn more about Sasha and her people and begin to trust them until three others of the hundred die from mysterious arrows from the forest. Wells finds something very odd when the group finds one of their own hanging from a tree; her feet have a message carved in them and the handwriting looks familiar…
I loved this book just as much as the first one! I love the suspense; it keeps you engaged the whole time. You never know what is going to happen and it's so great! I love that it's so different from the TV show. I loved the show, but the books are much better. One of my favorite things is that it goes to flashbacks of all the characters; it's really cool to learn some of their past. I cannot wait to read the next one! Unfortunately, MY LIBRARY DOESN'T HAVE IT. Okay, cool.
Characters:
Ooh. There is some romance in this book and oh man I have some strong Bellarke feels. Bellamy and Clarke are the perfect couple. Then there's Wells and Sasha. So cute. I love that the romance didn't take over the whole book, because… I mean… there are kids trying to survive on Earth. The most important part is that they're actually on Earth, not how many times they kiss another person. I like that them being sent to Earth is still the main focus.
Who Would I Be?:
Still would be Clarke. I love her; I love Bellamy. I love them together. It's just perfect. Sometimes her choices are a little dumb, but she always works them out. It's also pretty cool that she gets to help people because she's the doctor. I am looking forward to the third book in the trilogy because I know that there is going to be angst between the hundred and the adults. The hundred know how things work on Earth, but the adults are still adults… Can't wait to see how much fighting occurs :)
Series: