Clockwork Prince (The Infernal Devices #2) – Cassandra Clare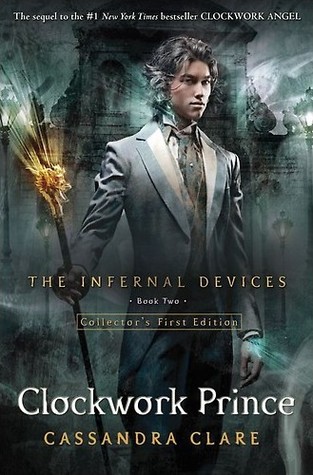 Title: Clockwork Prince
Author: Cassandra Clare
Release Date: December 6, 2011
Publisher: Walker Books Ltd
Format: Paperback
Page Number: 498
Source: Bestie
In the magical underworld of Victorian London, Tessa Gray has at last found safety with the Shadowhunters. But that safety proves fleeting when rogue forces in the Clave plot to see her protector, Charlotte, replaced as head of the Institute. If Charlotte loses her position, Tessa will be out on the street—and easy prey for the mysterious Magister, who wants to use Tessa's powers for his own dark ends.
With the help of the handsome, self-destructive Will and the fiercely devoted Jem, Tessa discovers that the Magister's war on the Shadowhunters is deeply personal. He blames them for a long-ago tragedy that shattered his life. To unravel the secrets of the past, the trio journeys from mist-shrouded Yorkshire to a manor house that holds untold horrors, from the slums of London to an enchanted ballroom where Tessa discovers that the truth of her parentage is more sinister than she had imagined. When they encounter a clockwork demon bearing a warning for Will, they realize that the Magister himself knows their every move—and that one of their own has betrayed them.
Tessa finds her heart drawn more and more to Jem, but her longing for Will, despite his dark moods, continues to unsettle her. But something is changing in Will—the wall he has built around himself is crumbling. Could finding the Magister free Will from his secrets and give Tessa the answers about who she is and what she was born to do?
As their dangerous search for the Magister and the truth leads the friends into peril, Tessa learns that when love and lies are mixed, they can corrupt even the purest heart.
5 out of 5 stars
Plot:
Charlotte's position as the leader of the London Institute has been challenged by the family who wants to take it over: The Lightwoods. In order to keep the Institute run by Charlotte and Henry, the residents of the London Institute must find the Magister. They have one fortnight to find out who he is, why he wants to hurt everyone, and catch him. Jem, Tessa, and Will head out in search of answers and find Will's family. They're in danger of the clockwork beasts the Magister has created; all of them need to get more information quickly so no one else is put in danger. Meanwhile, Jem has started to fall for Tessa, and Will is just pushing her further away. Tessa doesn't know who to choose. She loves them both, but for different reasons. Tessa continues following and helping the Shadowhunter clan because she needs to find out what she is. If she's a warlock, why doesn't she have warlock marks? She needs to know, and the only person who actually knows is the Magister.
No. No. This book is not okay. I love this series and Cassandra Clare and everything in these books. This is probably the best book I've read this year and everyone needs to read The Mortal Instruments and The Infernal Devices. Gah! Jem and Tessa. Will and Tessa. Charlotte and Henry. I love this book so much. The setting is beautiful. The characters are perfectly flawed. The whole concept is just mind-blowing. Thank you, Cassandra Clare for gifting our Mundane world with your beautiful writing.
Characters:
I love them all. Every single one. Especially Jem and Will. I just want them both to be with Tessa because they'd both make amazing husbands for her. I'm kind of partial to the whole Herondale family, though. Oh my gosh. The scene where Will is talking to Tessa in the study room. Oh man. So many feels. But the way Jem talks to her is just perfect. I jut want to marry him. Okay, not for real, but he's so sweet. The characters you're supposed to hate are really easy to hate and the characters that you love just pull at the heartstrings. Really though, Magnus Bane is still one of my all time favorite characters. He's so sassy and perfect. Much love.
Who Would I Be?:
Tessa. Tessa. Tessa. Who wouldn't want two beautiful boys swooning over you? Well, actually I don't think I'd be able to break one of their hearts. I just love them both. She loves them both. It's destined to be. I don't know how I would cope with the immortality thing, but I'd probably just go and be besties with Magnus.
Series:
Clockwork Angel (The Infernal Devices #1)
Clockwork Princess (The Infernal Devices #3)