Crank (Crank #1) – Ellen Hopkins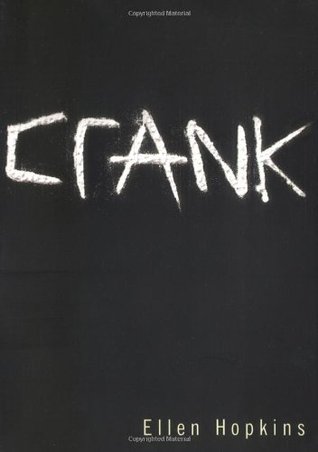 Title: Crank (Crank #1)
Author: Ellen Hopkins
Release Date: October 4, 2004
Publisher: Margaret K. McElderry Books
Format: Paperback
Page Number: 537
Source: Book Store
In Crank, Ellen Hopkins chronicles the turbulent and often disturbing relationship between Kristina, a character based on her own daughter, and the "monster," the highly addictive drug crystal meth, or "crank." Kristina is introduced to the drug while visiting her largely absent and ne'er-do-well father. While under the influence of the monster, Kristina discovers her sexy alter-ego, Bree: "there is no perfect daughter, / no gifted high school junior, / no Kristina Georgia Snow. / There is only Bree." Bree will do all the things good girl Kristina won't, including attracting the attention of dangerous boys who can provide her with a steady flow of crank.
5 out of 5 stars
Plot:
Kristina lives a happy life with her older sister, younger brother, mom, and step-dad. Everything is going well; she gets good grades, she has nice friends, but she decides to visit her father who left her family because of a drug addiction. She goes and stays with him for a full month and some pretty bad things happen. She meets a boy who is addicted to drugs, and he gets her to try "the monster" – crack. Horrible choices continue to happen while she's staying with her dad, but they only get worse when she gets back home. Kristina refers to her alter-ego as Bree; whenever she's getting high, she's Bree. Bree makes those decisions, not Kristina. She gets a call from her boyfriend in her dad's town saying that he loved her but they should see other people. This just pushes her to her monster even more.
This was beautiful. It was creepy and twisted and dark, but it was an amazing style. This book was written in verse, witch was a new experience for me. I loved this book because it was so different from what I usually read. Kristina always struggled with doing drugs. She knew it was wrong, but she didn't know how, or if she could, stop. It was really interesting to read from a perspective like this because her perception was so clouded and her judgments were so poor. It was honestly one of the best books I've ever read.
Characters:
Really, the only character was Kristina. This is all from her drug-induced perspective, which, like I said was very interesting. Bad things happened to her, and she handled most of them in the wrong way, but in the end things were semi-okay. I understand that addiction is a real thing and that people deal with it every single day of their life, but I don't know what would possess someone to start doing drugs. I really, really don't. There is no upside to drugs. Literally everything is downhill. Who cares about the high if the low is that low?
Who Would I Be?:
I don't want to be anyone from this book. I know that's cheating, but hey, I make the rules here. It would be so hard to deal with addiction or live with someone who was living with addiction. I wouldn't want to have to know what it feels like to be completely consumed by a drug. No way.
Series: