The Wide Window (A Series of Unfortunate Events #3) – Lemony Snicket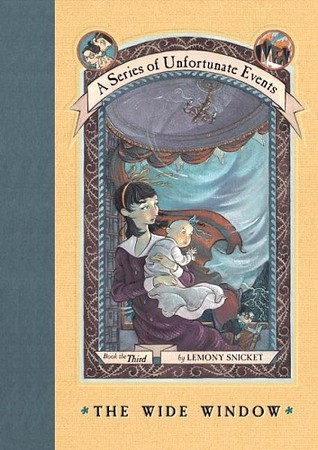 Title: The Wide Window (A Series of Unfortunate Events #3)
Author: Lemony Snicket
Release Date: January 1, 2000
Publisher: Harper Collins Publishers
Format: Paperback
Page Number: 224
Source: Book Store
Dear Reader,
If you have not read anything about the Baudelaire orphans, then before you read even one more sentence, you should know this: Violet, Klaus and Sunny are kindhearted and quick-witted, but their lives, I am sorry to say, are filled with bad luck and misery. All of the stories about these three children are unhappy and wretched, and the one you are holding may be the worst of them all.
If you haven't got the stomach for a story that includes a hurricane, a signalling device, hungry leeches, cold cucumber soup, a horrible villain, and a doll named Pretty Penny, then this book will probably fill you with despair.
I will continue to record these tragic tales, for that is what I do. You, however, should decide for yourself whether you can possibly endure this miserable story.
With all due respect,
Lemony Snicket
3 out of 5 stars
Plot:
Violet, Klause, and Sunny have been sent to live with their distantly related Aunt Josephine. Count Olaf is still after them and will stop at nothing to obtain the family fortune. Mr. Poe, the man who is in charge of the legal affairs of the children, drops them off at their Aunt Josephine's house on the top of a very large hill over looking a giant lake. Aunt Josephine shows them around the house and explains her fear of almost every object there. She doesn't use the stove for fear that it will suddenly burst into flames, so they eat cold soup for dinner. She's afraid of the furnace blowing up, so it's always freezing in the house. The three children overlook her irrational fears because they're just glad to be away from Count Olaf. Everything is semi-decent until they see him in disguise at the grocery store. What did he want with them now? Why did he always have to follow them?
This book has been my favorite of the series so far. It's very obviously geared towards young children, but it's still fun to read. I'm excited to see where the rest of the series will go. I really do wish that I would have read these books in late elementary school/early middle school, because I definitely would have enjoyed them more if I had.
Characters:
Violet is the inventor, Klaus is the reader, and Sunny is the one who bites everything. Klaus is my favorite because he is the one who reads all the books he can. I love books. he loves books, it's a great deal. Count Olaf is mean, so he's easy to dislike, but really, my least favorite character was Aunt Josephine. She was supposedly scared of everything, but how the heck did she get to the cave if she was so scared? I just feel like part of the explanation was missing.
Who Would I Be?:
I would be Klaus because we both love books and reading. I think I said this in the review of either the first or the second book, but I would love to have two siblings, as well. That would be pretty cool.
Series:
The Bad Beginning (A Series of Unfortunate Events #1)
The Reptile Room (A Series of Unfortunate Events #2)
The Miserable Mill (A Series of Unfortunate Events #4)