Rebel Belle (Rebel Belle #1) – Rachel Hawkins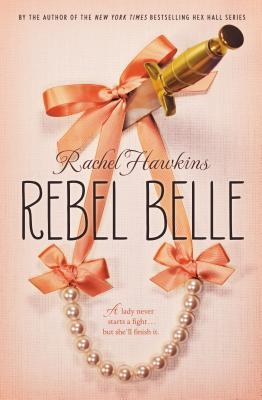 Title: Rebel Belle (Rebel Belle #1)
Author: Rachel Hawkins
Release Date: March 3, 2015
Publisher: Speak
Format: Paperback
Page Number: 368
Source: Bestie
Harper Price, peerless Southern belle, was born ready for a Homecoming tiara. But after a strange run-in at the dance imbues her with incredible abilities, Harper's destiny takes a turn for the seriously weird. She becomes a Paladin, one of an ancient line of guardians with agility, super strength and lethal fighting instincts. Just when life can't get any more disastrously crazy, Harper finds out who she's charged to protect: David Stark, school reporter, subject of a mysterious prophecy and possibly Harper's least favorite person. But things get complicated when Harper starts falling for him–and discovers that David's own fate could very well be to destroy Earth.
With snappy banter, cotillion dresses, non-stop action and a touch of magic, this new young adult series from bestseller Rachel Hawkins is going to make y'all beg for more.
4 out of 5 stars
Plot:
Harper Price has what every Southern belle strives to have. A perfect boyfriend, a big house, she's class President. Everything is going perfectly until she forgets to put on lip gloss before the Homecoming dance. She rushes off to the bathroom to apply some salmon colored gloss and is barged in on by the school janitor, but something is very wrong; he's bleeding and Harper knows he's dying. Harper is too stunned to be completely weirded out, but the school janitor pulls her to him and kisses her. It's not anywhere near a normal kiss; he blows his powers into her and now she's a Paladin. She has to protect the Oracle, who just so happens to be her least favorite person in school. Harper is thrown into this crazy new life that becomes her reality and she has to protect David Start with her life, literally. How did that trip to the bathroom change her life so drastically? What will happen to her and David? This book was so freaking good! I am so glad that I decided to pick it up. I loved the concept behind it; it was so cool because it is so different from a lot of other books I've read. Harper was cool, and not gonna lie, she was a total badass. She was perfect in school and could kick butt? There's not much more perfect than that. At the beginning I was very skeptical of this book. She was going to be crowned Homecoming Queen, she had to go apply lipgloss… it was a very typical teen book. But then it just got better and better. I can't wait to see how the next book goes.
Characters:
Like I said, Harper was awesome. I loved her. David was super great, too, because he was so different than characters usually are. Harper and David are my ship; they're so adorable. Harper's *previous* boyfriend, Ryan, was just really irritating because he was so needy. The ending was super great because who doesn't love some teen awkwardness to top off a good story?
Who Would I Be?:
Absolutely Harper. She was a Southern Belle with a huge secret. I would love to live in the South, and being a Paladin would be really fantastic. Sword fighting and head butting? Yes, please.