The Moon and More – Sarah Dessen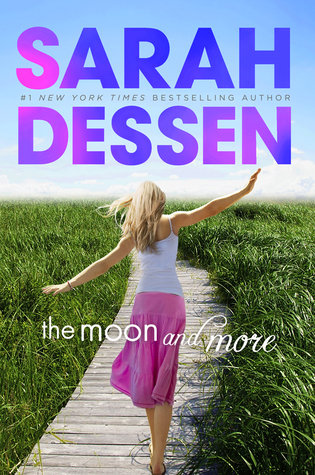 Title: The Moon and More
Author: Sarah Dessen
Release Date: June 14, 2013
Publisher: Viking Books
Format: Hardcover
Page Number: 435
Source: Book Store
Luke is the perfect boyfriend: handsome, kind, fun. He and Emaline have been together all through high school in Colby, the beach town where they both grew up. But now, in the summer before college, Emaline wonders if perfect is good enough.
Enter Theo, a super-ambitious outsider, a New Yorker assisting on a documentary film about a reclusive local artist. Theo's sophisticated, exciting, and, best of all, he thinks Emaline is much too smart for Colby.
Emaline's mostly-absentee father, too, thinks Emaline should have a bigger life, and he's convinced that an Ivy League education is the only route to realizing her potential. Emaline is attracted to the bright future that Theo and her father promise. But she also clings to the deep roots of her loving mother, stepfather, and sisters. Can she ignore the pull of the happily familiar world of Colby?
Emaline wants the moon and more, but how can she balance where she comes from with where she's going?
Sarah Dessen's devoted fans will welcome this story of romance, yearning, and, finally, empowerment. It could only happen in the summer.
3 out of 5 stars
Plot:
Emaline has lived in Colby her entire life; she is just finishing high school and everything is great. She has the perfect boyfriend, Luke, she has a good family, even if her biological father hasn't been there for her. She starts thinking about college seriously when she and her father connect over email. They set up another one of the annual dinners with his family and hers. Things continue just as she thought the would until a filmmaker and her assistant rent a fancy beach house from the family realty business. Emaline brings them a house warming gift from the business and ends up meeting Theo, the aspiring filmmaker who is an assistant to a well known one. The is everything Luke isn't Theo is a "dater;" he likes dates, and Luke is the one who would just want to hang out rather than have grand gestures. When Luke calls another girl, things between him and Emaline disappear, but things heat up with Theo? Will her summer romance with an older boy last? Is she making the right decision by having a summer fling?
This was a fluffy, light book. All of Sarah Dessen's books are. Not a bad thing, just a fact. This book was okay; I didn't love the premise behind it that much. I have liked some of Dessen's books in the past, but this one didn't really go anywhere. My favorite thing about this book was that she called her step-dad, Dad, and refered to her biological dad as her father. I like that she explained it to people through out the story that the words 'Dad' and 'Father' aren't interchangeable. I really, really didn't like Luke or Theo. They were both so irritating. They were so needy. Just stop.
Characters:
Emaline wasn't awful, but she wasn't my favorite. She could have fixed a lot of her problems just by communicating. My favorite character was Benji, Emaline's biological brother. He was just so cute and he loved Emaline and her life. This story would have been pretty bad if it weren't for his comic relief.
Who Would I Be?:
I would be Emaline because I'd love to live in Colby. It's a beach town and she got to be outside all the time. I live in an area with lakes and a lot of beaches, so I would love to try living near an ocean.