The Wrath and the Dawn (The Wrath and the Dawn #1) – Renee Ahdieh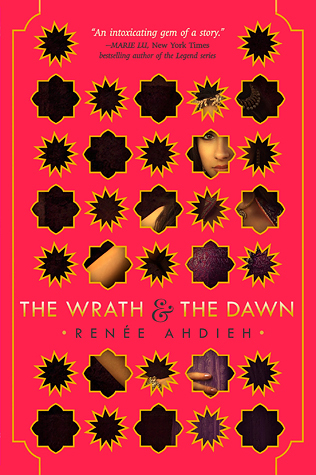 Title: The Wrath and the Dawn
Author: Renee Ahdieh
Release Date: May 12, 2015
Publisher: G.P. Putnam's Sons Books
Format: Hardcover
Page Number: 388
Source: Book Club
One Life to One Dawn.
In a land ruled by a murderous boy-king, each dawn brings heartache to a new family. Khalid, the eighteen-year-old Caliph of Khorasan, is a monster. Each night he takes a new bride only to have a silk cord wrapped around her throat come morning. When sixteen-year-old Shahrzad's dearest friend falls victim to Khalid, Shahrzad vows vengeance and volunteers to be his next bride. Shahrzad is determined not only to stay alive, but to end the caliph's reign of terror once and for all.
Night after night, Shahrzad beguiles Khalid, weaving stories that enchant, ensuring her survival, though she knows each dawn could be her last. But something she never expected begins to happen: Khalid is nothing like what she'd imagined him to be. This monster is a boy with a tormented heart. Incredibly, Shahrzad finds herself falling in love. How is this possible? It's an unforgivable betrayal. Still, Shahrzad has come to understand all is not as it seems in this palace of marble and stone. She resolves to uncover whatever secrets lurk and, despite her love, be ready to take Khalid's life as retribution for the many lives he's stolen. Can their love survive this world of stories and secrets?
Inspired by A Thousand and One Nights, The Wrath and the Dawn is a sumptuous and enthralling read from beginning to end.
4 out of 5 stars
Plot:
Caliph Khalid takes a new wife every day, and the girl is found dead the next morning. No one knows why the girls get killed, but everyone is scared of the Caliph. Khalid takes Shahrzad's best friend, and she is found with a silk cord tied around her neck in the morning. Shahrzad volunteers to be the next bride in order to bring relief to her friend's family. Shahrzad goes to the castle and is greeted by Caliph Khalid. He regards her without emotion, and doesn't speak much. Shahrzad tries to break down his emotional walls in order to understand him and why he kills the young brides. He, of course, doesn't tell her and becomes fairly distant. She starts to see things through his eyes and eventually falls in love with the monster of a boy-king. He slowly but surely falls for her as well and they end up understanding things about each other that no one else can possibly understand. The wrath will always come at dawn.
This book was seriously so good. I genuinely loved this book and I just want to read the next one. This retelling of the story was really cool to read because I've never heard of anything like this. The concept was new and exciting, and I am so pumped to read The Rose and the Dagger.
Characters:
Shahrzad and Khalid are fricking awesome. I loved this cast of characters because they were so witty, but so tender at points in the story. I can't wait to see what happens in the next book with the two of them. So much love.
Who Would I Be?:
I don't think I'd want to be in the awful situation of dealing with being scared for morning, but I'd choose to be Shahrzad. She was so different than society wanted her to be. She's one of my all time favorite characters.
---
UPON THE SECOND TIME READING:
I really enjoyed it this time around!! There were so many things that I missed, and because I read this so long ago the first time, I actually forgot why Khalid was doing what he was doing. And damn, the ending. I totally forgot the ending. I read this right when it came out for the first time, and was pissed because the second book wasn't coming out for another year, and then I just didn't pick it up when it came out… Hmm. I hope to read the second book soon, because I NEED TO KNOW WHAT HAPPENS to Shahrzad and Khalid. They're so cute together and he loves her so much. She loves him, but I can see the love triangle happening in the next book and I'm not here for it.
Series:
The Moth and the Flame (The Wrath and the Dawn #0.25)
The Crown and the Arrow (The Wrath and the Dawn #0.5)
The Rose and the Dagger (The Wrath and the Dawn #2)