Outlander (Outlander #1) – Diana Gabaldon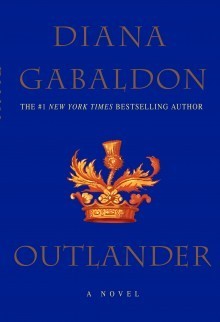 Title: Outlander (Outlander #1)
Author: Diana Gabaldon
Release Date: July 25, 2005
Publisher: Dell Publishing Company
Format: Mass Market Paperback
Page Number: 850
Source: Bookstore
The year is 1945. Claire Randall, a former combat nurse, is just back from the war and reunited with her husband on a second honeymoon when she walks through a standing stone in one of the ancient circles that dot the British Isles. Suddenly she is a Sassenach—an "outlander"—in a Scotland torn by war and raiding border clans in the year of Our Lord…1743.
Hurled back in time by forces she cannot understand, Claire is catapulted into the intrigues of lairds and spies that may threaten her life, and shatter her heart. For here James Fraser, a gallant young Scots warrior, shows her a love so absolute that Claire becomes a woman torn between fidelity and desire—and between two vastly different men in two irreconcilable lives.
---
5 out of 5 stars
Plot:
Claire Randall goes to Scotland with her husband, Frank, for a honeymoon after the war. The two spend some time there learning and exploring around. They stay in an inn, and Frank learns more about his relatives through family trees. One day Claire goes and explores around where they're staying and finds a stone circle; she goes around it and picks medicinal plants, until something strange happens. The standing stone start to buzz and sing. She walks around it listening when she touches it and is transported back in time to 1743. While she's sent back in time she doesn't know where she's at, and doesn't understand what's happening to her, until a man comes and saves her from the shooting of Englishmen. The red-headed man swings her up onto his horse and they speed away. She's scared of him and doesn't understand why he took her, but then she finds out he's been shot in the shoulder. Because she's a nurse, she can help him, and does. They sit in a barn with candles flickering, and she has him take off his shirt and she tends to his shoulder. She hadn't realized how muscular and handsome he was until that moment. She get embarrassed, but realizes that she has fallen for him sooner than she realized possible. They ride off with the rest of the crew of Scots and find safety. Will she ever get back to Frank? Does she even want to?
Oh. My. Gosh. I haven't read a book this good in so long. This book was slow in the beginning, but I blame that on me and my lack of time to read. I fricking loved this book. It was full of time travel, very attractive Scottish men, and dangerous situations. This book was witty, sexy, fun, and adventurous. I love historical fiction, and this just reiterates why I love it so much. I took a really long time to read this, but now I just want to read the next one. Like right now. I haven't been this excited about a book since the beginning of the year; it is genuinely one of the best books I've ever read. The plot was so great; it was so long, but it was definitely worth it. I loved the aspect of the traveling across the Scottish highlands on horseback, and Jamie. Oh man.
Characters:
I love Jamie Fraser. He's one of the very attractive Scottish men I was talking about earlier. He's perfect for Claire. She needs someone who is sweet, and innocent, and nice. She needs Jamie so much more than Frank; Frank is stupid and irritating, and I'm judging anyone who likes him. Jamie is so tender and awkwardly adorable. I can just picture him blushing when something happens and he gets embarrassed. Gosh. So cute.
I also love Jenny and Ian, Jamie's sister and brother-in-law. They come into the story about halfway to three fourths of the way through, and they're perfect. Jenny and Jamie have the best sibling relationship out of any book I've ever read. They have a little boy named Jamie and it's precious.
Claire is one of my all time favorite characters. She's stubborn, smart, and happy when she's with Jamie. She made the right choice to stay in 1743; she shouldn't ever go back to 1945… ever. Don't leave Jamie.
Who Would I Be?:
I would most definitely be Claire Fraser; even though she struggles living in the 1700s she is perfectly placed there. She gets to be with Jamie, and I mean… Jamie. She gets to travel across the countryside, and she learns how to wield a dagger. That's pretty cool. She is a nurse, so she can actually help people. She's amazing. AND she gets to be married to Jamie. If you haven't noticed, I also love Jamie.
I cannot wait to read the rest of these books! Thank you, God, for making people who can write.