Afterworlds – Scott Westerfeld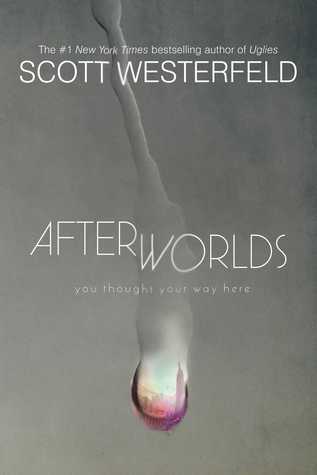 Title: Afterworlds
Author: Scott Westerfeld
Release Date: September 24, 2015
Publisher: Simon Pulse
Format: Paperback
Page Number: 599
Source: Book Club
Darcy Patel has put college and everything else on hold to publish her teen novel, Afterworlds. Arriving in New York with no apartment or friends she wonders whether she's made the right decision until she falls in with a crowd of other seasoned and fledgling writers who take her under their wings…
Told in alternating chapters is Darcy's novel, a suspenseful thriller about Lizzie, a teen who slips into the 'Afterworld' to survive a terrorist attack. But the Afterworld is a place between the living and the dead and as Lizzie drifts between our world and that of the Afterworld, she discovers that many unsolved – and terrifying – stories need to be reconciled. And when a new threat resurfaces, Lizzie learns her special gifts may not be enough to protect those she loves and cares about most.
3 out of 5 stars
Plot:
Darcy Patel has thoughts running around in her head, so she decides to write them. Every single one of them in the month of November. She sends off her novel to a publishing company and gets accepted to be published. She gets a contract for $100,000 for the book Afterworlds and the second book, which doesn't have a title yet. Darcy leaves her parents house at 18 and moves to New York City to pursue her career as an author. She gets a great apartment to use for her writing space and in the midst of all the craziness, she finds love in another author. Darcy meets Imogen at a YA Drink Night party near the beginning of the book, and starts to fall for her. Imogen is older than her, is already published, and is established in the YA community. Darcy should be intimidated, and she is, but she and Imogen end up going out together. Darcy never knew she was lesbian; she had crushes on boys in high school, but when she's with Imogen everything is different. Darcy writes and rewrites her book in the presence of Imogen; they write together. Everything is great until Darcy finds something out about Imogen that surprises her. Did Darcy just get lucky with being published? Is she really too young?
I read this book for book club, and it was pretty alright. I had some problems with it, but it wasn't awful. We decided to choose this one because Brooklynn, Rachael, and I hadn't read (or read in a while) a Scott Westerfeld book. I was somewhat disappointed with this book, because it sounded so interesting! I love reading about authors, because I hope to become a YA author throughout my career, and the parts about Darcy and Imogen were good. I would have been fine with a whole book about them, but Scott Westerfeld had the alternating chapters be about Darcy's life and about the book Darcy wrote. I didn't think this was the best platform for the story. Both were good on their own, but together just made it go by slowly. I do plan on giving the Uglies series by Scott Westerfeld a try, though. Those are supposed to be very good.
Characters:
Darcy and Imogen were so cute together. It was so cute that they were both authors and they lived together. They were adorable. In the alternating chapters about Lizzie, I couldn't connect with them. It was hard to switch your brain from story to story throughout the book. One of my biggest pet peeves for this whole book was the word "crap." Oh my gosh I swear it was on every page. They were fine with dropping the f-bomb, but never did I hear them say something like "shit." No it was always "crap." IT WAS SO IRRITATING.
Who Would I Be?:
I would choose to be Darcy. She was a lucky girl who ended up having everything go her way in the long run. She wrote a book, got published, moved to NYC, found a girlfriend. Everything went the way she wanted it to. But that could also be awful. Once something bad did happen to her, she had no idea how to even function because she was always perceived as perfect. It would be fun to sign books and talk to fans about your book, especially teenage fangirls.