The Mine (Northwest Passage #1) – John A. Heldt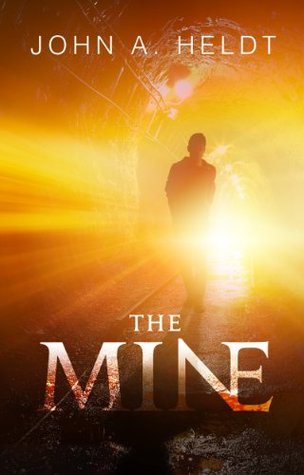 Title: The Mine
Author: John A. Heldt
Release Date: December 6, 2013
Publisher: John A. Heldt
Format: eBook
Page Number: 291
Source: Publisher
In May 2000, Joel Smith is a cocky, adventurous young man who sees the world as his playground. But when the college senior, days from graduation, enters an abandoned Montana mine, he discovers the price of reckless curiosity. He emerges in May 1941 with a cell phone he can't use, money he can't spend, and little but his wits to guide his way. Stuck in the age of swing dancing and a peacetime draft, Joel begins a new life as the nation drifts toward war. With the help of his 21-year-old trailblazing grandmother and her friends, he finds his place in a world he knew only from movies and books. But when an opportunity comes to return to the present, Joel must decide whether to leave his new love in the past or choose a course that will alter their lives forever. THE MINE follows a humbled man through a critical time in history as he adjusts to new surroundings and wrestles with the knowledge of things to come.
---
5 out of 5 stars
Plot:
Joel Smith, the college senior, is about to graduate but decides to explore a little bit on a small trip with his best friend. Joel winds up in an abandoned mine in Montana with a flashlight and curiosity. He followed the mine shaft until he sees glowing blue stones in the wall. His immediate reaction shows his love of geology, but he's startled by a rattle snake close behind him. He drops his flashlight and runs as quickly as he can out of the mine. On his way out, something odd happens. The college boy runs and hits his head on a low ceiling, and when he wakes up, he's in 1941. Joel walks out of the mine completely clueless, and sees that his best friend isn't there, so he starts walking towards town. On his trek toward the nearest inhabited land, Joel gets picked up by a man in a nice, new, old car. When Joel gets into the car he asks what year it is, and gets the answer he fears. He went back in time 59 years, and doesn't know how to get back to his time. He doesn't have any cash with him, and has no idea what to do. He ends up going to his hometown, and sleeping on a bench outside a bar. One night he sees his future best friend getting beaten up by guys their age asking for money. Tom, the boy getting beat up, gets help from Joel, and soon takes the future-naut into his home. Tom and Joel become the best of friends, and Tom introduces Joel to his group of friends. Tom talks about his girlfriend and mentions some of her friends; Joel ends up falling for a girl named Grace. Does Tom ever get back his time period? Does falling in love with a girl from 45 years before his birth ruin anything?
OH MY GOSH I LOVED THIS BOOK. This is one of the best books I've ever read. The concept was great, and I loved the setting and the characters. I can't believe that it took me this long to actually read this book. Huge huge thank you to John for sending me this book. I loved it so much. The romance was adorable. The friendship was perfect. I really don't have any complaints about this book at all. I cannot wait to read the rest of this series, because it ended on an amazing cliffhanger; I will definitely be picking up the rest of these books in 2016. This was the perfect time travel book, because he wasn't looking to specifically time travel, and made the best decision in the end. He wasn't selfish, and he acted very maturely. He fell in love and lived his few months in the 1940s with his best friends. I loved this book. I highly HIGHLY recommend this to everyone.
Characters:
Joel was witty, sarcastic, and loving. He was perfectly flawed. He knew where he needed to learn more about the people around him, and about himself. Joel knew the right thing to say, and when to say it. Tom was a wonderful best friend to Joel, and went through rough times, but understood why he had to. Grace (even if I am a little biased to the name… one of my favorites of all time) was beautiful, and tender. She was delicate, but still understood how the world worked.
These were some of my favorite characters. I loved the feeling I got while reading this book; the writing was beautiful. Again, I thank the Lord that he created people who know how to create stories.
Who Would I Be?:
I would choose to be Grace; she was gorgeous, smart, and sensitive. Grace loved books, I love books. It's meant to be. She also got to spend the last few months she had with Joel creating memories to last a lifetime. I love Joel, and she loves Joel. Again… we're basically the same ;)