Amulet Volume 2: The Stonekeeper's Curse (Amulet #2) – Kazu Kibuishi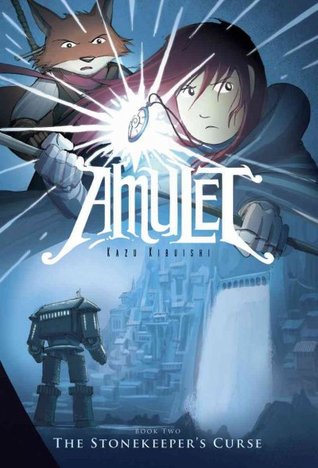 Title: Amulet Volume 2: The Stonekeeper's Curse (Amulet #2)
Author: Kazu Kibuishi
Release Date: September 1, 2009
Publisher: GRAPHIX
Format: Hardcover
Page Number: 224
Source: Library
In this thrilling sequel to AMULET #1: THE STONEKEEPER, Emily and her brother Navin head for Kanalis, a beautiful and mysterious city of waterfalls, where they hope to find the antidote for the poison that felled their mother. That cure lies in the eggs of a giant serpent atop Demon's Head Mountain, but the kids' archenemy, Trellis, is headed for the peak, too. A battle that will engulf all of Kanalis is looming. It's up to Em to triumph over evil while controlling the amulet's power . . . without losing herself!
---
4 out of 5 stars
Gosh, I'm really loving this series! It's so much fun to read; it's been a while since I've had a completely fun read. I liked this volume better than the first. Emily and Navin had to go underground with the animal people from a city with the best doctors. They went there in the first place to help their mother find a cure for the poison she got poisoned with in the first volume. Emily knows that the amulet's power is growing, so she has to stay in control. The more she uses the power, the stronger the amulet gets, and the harder it is for her to control it. Her main struggle throughout this book deals with her ability to control the stone that she's now cursed with. Emily had quite a bit of character development in this book compared to the first, so it was cool to see her growth through the book. I love Leon; he's the fox/person who is the trainer for Emily. Both her and Navin learn so much from him and his abilities.
I'm very excited to continue on with this series; it's been a lot of fun to read so far, and I am extremely excited to see what happens next. I also love the fact that this series is for middle grade. I love middle grade novels because of the simplicity in them; they don't have romance, you don't have to worry about reading something that makes you uncomfortable, you just get to have fun. It's always nice to have a fun book to read.
Series:
The Cloud Searchers (Amulet #3)
Prince of the Elves (Amulet #5)
Escape from Lucien (Amulet #6)