Amulet Volume 3: The Cloud Searchers (Amulet #3) – Kazu Kibuishi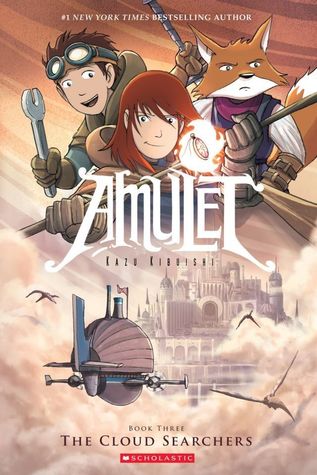 Title: Amulet Volume 3: The Cloud Searchers (Amulet #3)
Author: Kazu Kibuishi
Release Date: September 1, 2010
Publisher: GRAPHIX
Format: Paperback
Page Number: 199
Source: Library
An impossible journey with danger at every turn…
Emily, Navin, and their crew of resistance fighters charter an airship and set off in search of the lost city of Cielis. There they hope to find help from the Guardian Council's powerful Stonekeepers. It's a mission that Alledia's survival depends on, and time is running out–Emily's got to find Cielis before the Elf King finds her.
---
4 out of 5 stars
I am really loving this series! Like I said in the review of The Stonekeeper's Curse, they're so much fun to read. I am excited to start the next book because they finally got to the destination they were trying to get to, and they met a few new characters. The plot of this volume of Amulet was about Emily and Navin and their mother traveling to the floating city of Cielis so they can further Emily's journey as a Stonekeeper. Again, I love this series; they're fun, easy, and colorful. I haven't read a lot of graphic novels, so it's like a breath of fresh air to finally read a good series. Emily and Navin are nice to eachother, and they don't fight. They're like normal siblings in a supernatural world.
I can't wait to see where the rest of the series takes me! I am very excited to read the seventh installment that comes out in February. I really hope that my library has the rest of the series, though. The one thing that I don't like about graphic novels is that they're expensive, and you don't get as much story, but I'm happy to read them from the library.
I would choose to be Emily still. I love how she's not being controlled by the Amulet and how she's trying her best to learn. The next book will be about her education in Cielis, because she'll be training to be part of the Council. Gosh, I can't wait to finish this series.
Series:
The Stonekeeper's Curse (Amulet #2)
Prince of the Elves (Amulet #5)
Escape from Lucien (Amulet #6)