Amulet Volume 4: The Last Council (Amulet #4) – Kazu Kibuishi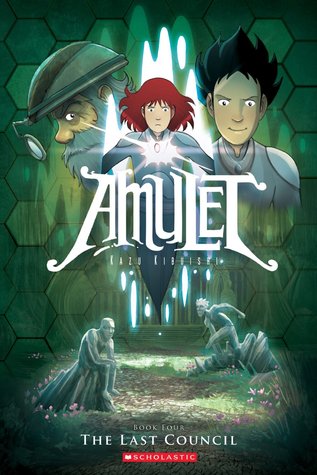 Title: Amulet Volume 4: The Last Council (Amulet #4)
Author: Kazu Kibuishi
Release Date: September 1, 2011
Publisher: GRAPHIX
Format: Paperback
Page Number: 209
Source: Library
Emily and her friends think they'll find the help they need in Cielis, but something isn't right. Streets that were once busy are deserted, and the townspeople who are left live in crippling fear. Emily is escorted to the Academy where she's expected to compete for a spot on the Guardian Council, the most powerful Stonekeepers. But as the number of competitors gets smaller and smaller, a terrible secret is slowly uncovered–a secret that, if left buried, means certain destruction of everything Emily fights for.
---
4 out of 5 stars
I think that this book has been my favorite out of the Amulet series thus far. It was fast paced, entertaining, kind of creepy, and beautifully drawn and written. I love the Elves who are traveling with the group. The two of them have so many redeeming qualities, I mean I'm sure the point of them being in the group is to show sides of people/creatures that get overlooked by outward appearances. I do believe that by the end of the series, the Elves will be allies with the Stonekeepers. That is my prediction, let's see if I'm correct.
The premise behind this volume was the beginning of the journey through Cielis with the other Stonekeepers Emily meets while she's there. There was somewhat of a plot twist at the end, but now that I look back at it all the clues were there. I cannot wait to continue on with this series. I highly recommend reading this graphic novel series if you've never read graphic novels or want to get into them. It's, again, fast paced, and very easy to read. It is a middle grade series, but it will give you an idea of how you feel about reading graphic novels. I also recommend getting graphic novels from your local library; graphic novels are very expensive, but they're worth the read.
I would choose to be Emily still. I love her and her brother Navin, the two of them are helpful and will actually be beneficial to one another. It isn't very common that you read a book with a strong family element. It's nice to read about a family who gets along and loves each other. I am so excited to finish this series in 2016! Let me know what your favorite graphic novel was of this year in the comments below!
Series:
The Stonekeeper's Curse (Amulet #2)
The Cloud Searchers (Amulet #3)
Prince of the Elves (Amulet #5)
Escape from Lucien (Amulet #6)