The Raven Boys (The Raven Cycle #1) – Maggie Steifvater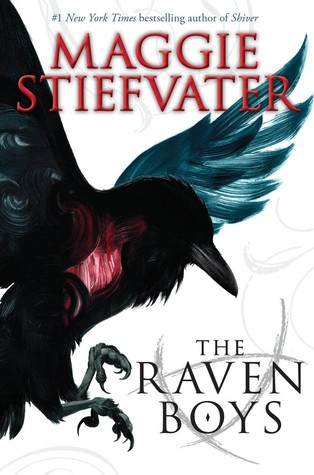 Title: The Raven Boys (The Raven Cycle #1)
Author: Maggie Steifvater
Release Date: September 1, 2012
Publisher: Scholastic
Format: Paperback
Page Number: 409
Source: Book Club
"'There are only two reasons a non-seer would see a spirit on St. Mark's Eve,' Neeve said. 'Either you're his true love…or you killed him.'"
It is freezing in the churchyard, even before the dead arrive.
Every year, Blue Sargent stands next to her clairvoyant mother as the soon-to-be dead walk past. Blue herself never sees them — not until this year, when a boy emerges from the dark and speaks directly to her.
His name is Gansey, and Blue soon discovers that he is a rich student at Aglionby, the local private school. Blue has a policy of staying away from Aglionby boys. Known as Raven Boys, they can only mean trouble.
But Blue is drawn to Gansey, in a way she can't entirely explain. He has it all — family money, good looks, devoted friends — but he's looking for much more than that. He is on a quest that has encompassed three other Raven Boys: Adam, the scholarship student who resents all the privilege around him; Ronan, the fierce soul who ranges from anger to despair; and Noah, the taciturn watcher of the four, who notices many things but says very little.
For as long as she can remember, Blue has been warned that she will cause her true love to die. She never thought this would be a problem. But now, as her life becomes caught up in the strange and sinister world of the Raven Boys, she's not so sure anymore.
From Maggie Stiefvater, the bestselling and acclaimed author of the Shiver trilogy and The Scorpio Races, comes a spellbinding new series where the inevitability of death and the nature of love lead us to a place we've never been before.
---
4 out of 5 stars
This is the first Maggie Steifvater book that I've read, and I really enjoyed it. It was a great book to read for book club, because it kept all of us on the edges of our seats every week when we talked about it. I haven't read a magical/paranormal book from a new series in a while, and I'm extremely glad that I read this one. The characters were phenomenal in this story; everyone was completely different and had unique backstories even though the four boys all went to Aglionby, the prestigious all male private school. The four boys, Gansey, Noah, Ronan, and Adam, became friends with Blue in a very natural way. It wasn't extremely forced, and she wasn't just there because Adam asked her out. She loved all the boys, maybe Ronan a little less, but grew fond of their lives and quickly became part of their group.
I loved the psychic element to this story. I've never read anything from a paranormal world quite like this one. I absolutely loved the history that was placed throughout the story; it was cool to learn about Glendower and the ley lines. I love Gansey and Blue together even though they weren't actually a thing in this book. They will be in the next books. It's my prediction for the rest of the series. I already bought the second book, and I can't wait to read it. I've heard that it's super amazingly great, and I can't wait to find out what happens in the future.
One of my favorite parts of this book was how dedicated to finding Glendower Gansey was. A lot of books don't really have a huge driving force as to why they make the decisions they do. Gansey was completely enamored with the topic, and created a journal with all of his findings since he started being obsessed, and it was cool to see his passion for the work he did.
I would choose to be Blue because she got to be around her psychic family, and she is best friends with the Aglionby boys. I love the four boys and their stories that Steifvater has created for them. I would have to be scared to kiss anyone, so that would suck, but I would still get to be around all of them, and it would be great. I loved this book, and can't wait to continue on with this series.