The Bane Chronicles (The Bane Chronicles #1-4) – Cassandra Clare, Sarah Rees Brennan, Maureen Johnson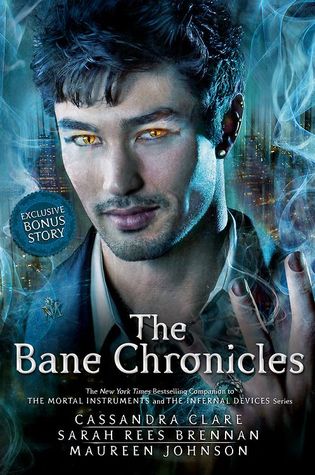 Title: The Bane Chronicles
Author: Cassandra Clare, Sarah Rees Brennan, Maureen Johnson
Release Date: November 11, 2014
Publisher: Margaret K. McElderry Books
Format: Hardcover
Page Number: 528
Source: Book Store
Fans of The Mortal Instruments and The Infernal Devices can get to know warlock Magnus Bane like never before in this collection of New York Times bestselling tales, in print for the first time with an exclusive new story and illustrated material.
This collection of eleven short stories illuminates the life of the enigmatic Magnus Bane, whose alluring personality, flamboyant style, and sharp wit populate the pages of the #1 New York Times bestselling series, The Mortal Instruments and The Infernal Devices.
Originally released one-by-one as e-only short stories by Cassandra Clare, Maureen Johnson, and Sarah Rees Brennan, this compilation presents all ten together in print for the first time and includes a never-before-seen eleventh tale, as well as new illustrated material.
---
What Really Happened in Peru (The Bane Chronicles #1)
3 out of 5 stars
This novella is the first installment in The Bane Chronicles, and it wasn't amazing. I'm actually surprised that I didn't love it, but there wasn't really a plot to it. I get that it is only 50 pages, but there wasn't really a point to them even being in Peru. I still love Magnus, and am excited to read more about him throughout this book. Oh my gosh I hope that he's in Lady Midnight (WHICH COMES OUT IN A MONTH). Anyway, I still don't know what really happened in Peru, so…
The Runaway Queen (The Bane Chronicles #2)
4 out of 5 stars
Magnus is in Paris in 1791 and he has to help Marie Antoinette escape from France. Magnus is hired by Axel von Fersen to Glamour the queen and her family in order for them to escape. This was a lot better than the first novella by far. There was actually a story, but I don't think that the stories so far have been extremely beneficial to The Mortal Instruments or The Infernal Devices yet. I'm not saying that they're bad, but they've not been helpful to understanding anything from the series yet. I am assuming that they will because Cassandra Clare is really good at weaving information into her series. I think that these are just harder for me to relate to because I'm most used to seeing Magnus with Alec in today's time, not two hundred years ago. My favorite part so far is that it says that Magnus loves dark hair and blue eyes… Alec has both of those traits…
Vampires, Scones, and Edmund Herondale (The Bane Chronicles #3)
5 out of 5 stars
They keep getting better and better! I really enjoyed this one, mostly because it is is London. And London is my thing. Anyway, this novella talked more about Magnus, but let us in on how he had a relationship with Camille. Camille is one of my favorite villains, but she's not really even a villain. Camille just happens to have some tricky things up her ancient sleeves. I loved getting to meet Will's dad. The Herondales will forever have a place in my heart; that family is my favorite. There was a reference to the hatred of ducks, which made me really happy, and we got to see a tiny little scene with Charlotte as a toddler. Oh my gosh it was so cute. I really loved this novella. I am glad that I got a little bit of information from pre Infernal Devices, and hope to get more about Alec and Magnus because Malec is my favorite ship.
The Midnight Heir (The Bane Chronicles #4)
5 out of 5 stars
I love Will and I love Tessa, and I'm so glad that I got to see the way they developed from the end of The Infernal Devices. James Herondale is troubled, and it's kind of ironic as to why he's troubled. He is getting attacked by love, where his father was saved by love. There were so many happy squealy moments to this novella (honestly, ask my family). There was another duck reference, and I loved seeing things from a new perspective. In The Infernal Devices you didn't really see anything from Magnus' point of view, you only saw from the Institute residents. I think that this will be the novella I will just read over and over whenever I'm feeling left out of the Shadowhunter world. I literally cannot even express how much I love the Herondales. So much love for that family.
Series:
The Rise of the Hotel Dumort (The Bane Chronicles #5)
Saving Raphael Santiago (The Bane Chronicles #6)
The Fall of the Hotel Dumort (The Bane Chronicles #7)
What To Buy the Shadowhunter Who Has Everything (The Bane Chronicles #8)
The Last Stand of the New York Institute (The Bane Chronicles #9)
The Course of True Love [and First Dates] (The Bane Chronicles #10)
The Voicemail of Magnus Bane (The Bane Chronicles #11)