The Bane Chronicles (The Bane Chronicles #8-11) – Cassandra Clare, Sarah Rees Brennan, Maureen Johnson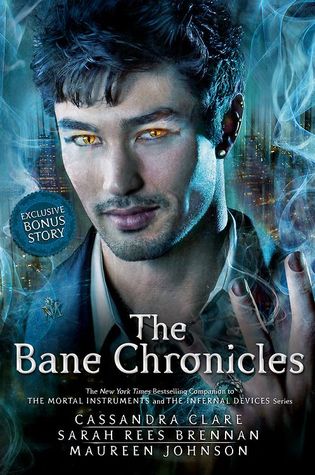 Title: The Bane Chronicles
Author: Cassandra Clare, Sarah Rees Brennan, Maureen Johnson
Release Date: November 11, 2014
Publisher: Margaret K. McElderry Books
Format: Hardcover
Page Number: 528
Source: Book Store
Fans of The Mortal Instruments and The Infernal Devices can get to know warlock Magnus Bane like never before in this collection of New York Times bestselling tales, in print for the first time with an exclusive new story and illustrated material.
This collection of eleven short stories illuminates the life of the enigmatic Magnus Bane, whose alluring personality, flamboyant style, and sharp wit populate the pages of the #1 New York Times bestselling series, The Mortal Instruments and The Infernal Devices.
Originally released one-by-one as e-only short stories by Cassandra Clare, Maureen Johnson, and Sarah Rees Brennan, this compilation presents all ten together in print for the first time and includes a never-before-seen eleventh tale, as well as new illustrated material.
---
What to Buy the Shadowhunter Who Has Everything (The Bane Chronicles #8)
5 out of 5 stars
I love Magnus and Alec together, and this is the story I was most excited for. Malec is my favorite ship from The Mortal Instruments and it's super nice to see them interacting again. You've also never really seen their interactions clearly because of the multiple storylines, but it's so fun. It's really great to read about a relationship that is so new and so beautiful. I love Magnus and Alec so much. I love that they're sweet to each other and that they love one another for who they are. Oh my gosh, it's just so cute and romantic. Magnus went to all the trouble of imagining what Alec was feeling throughout the short story, and I just can't handle how cute it was. So much love for them.
The Last Stand of the New York Institute (The Bane Chronicles #9)
4 out of 5 stars
This hasn't been my favorite story, but I really enjoyed seeing Valentine when he started being who he is. I love seeing Magnus, and I get that this whole book is about him, but it's cool to see him helping people instead of just being glittery. I also enjoyed seeing Jocelyn and Clary when they were younger. It was just so cute and Tessa was there. Tessa was wearing a shirt that said "William wants a doll." Yes, it was about being a feminist, but it's because she hasn't strayed from Will and it's just perfect. I love Tessa and Will from The Infernal Devices and it's just… oh my gosh I love them.
The Course of True Love [and First Dates] (The Bane Chronicles #10)
5 out 5 stars
I don't even know what to say about this because it's been my favorite novella so far. I love Magnus and Alec together and they are my favorite couple from the whole Mortal Instruments series. I loved seeing them interacting on their first date and how perfectly awkward it was. I loved every second of it and I just want a whole book about Magnus and Alec. They make me so happy. I just get a giddy, girly, squealy feeling when I read about them. The kissing scene. My gosh. I just want them to be together forever and ever. I love them and I love their first date story. It's so fricking cute.
The Voicemail of Magnus Bane (The Bane Chronicles #11)
3 out of 5 stars
I did not want to relive that traumatic experience of the situation that is not to be named between Alec and Magnus. I really did not want to deal with that pain again and I'm still not over that part. I literally hated reading that, but it was pretty okay. I love Cassandra Clare and I can't wait to read Lady Midnight because more Shadowhunters. I GET TO MEET HER IN OMAHA AND IM SO PUMPED. Anyway, I really enjoyed this book overall, and can't wait to read more from her!
Series:
What Really Happened in Peru (The Bane Chronicles #1)
The Runaway Queen (The Bane Chronicles #2)
Vampires, Scones, and Edmund Herondale (The Bane Chronicles #3)
The Midnight Heir (The Bane Chronicles #4)
The Rise of Hotel Dumort (The Bane Chronicles #5)
Saving Raphael Santiango (The Bane Chronicles #6)
The Fall of Hotel Dumort (The Bane Chronicles #7)