The Perks of Being a Wallflower – Stephen Chbosky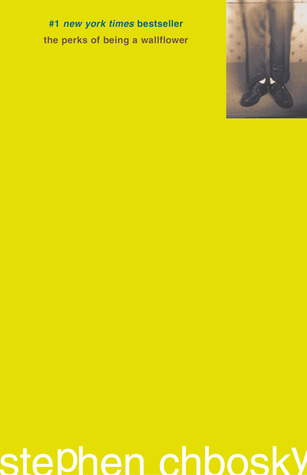 Title: The Perks of Being a Wallflower
Author: Stephen Chbosky
Release Date: February 1, 1999
Publisher: MTV Books and Pocket Books
Format: Paperback
Page Number: 213
Source: Young Adult Literature Class
Charlie is a freshman.
And while he's not the biggest geek in the school, he is by no means popular. Shy, introspective, intelligent beyond his years yet socially awkward, he is a wallflower, caught between trying to live his life and trying to run from it.
Charlie is attempting to navigate his way through uncharted territory: the world of first dates and mix tapes, family dramas and new friends; the world of sex, drugs, and The Rocky Horror Picture Show, when all one requires is that perfect song on that perfect drive to feel infinite. But he can't stay on the sideline forever. Standing on the fringes of life offers a unique perspective. But there comes a time to see what it looks like from the dance floor.
The Perks of Being a Wallflower is a deeply affecting coming-of-age story that will spirit you back to those wild and poignant roller-coaster days known as growing up.
---
2 out of 5 stars
I don't get it. I'm honestly very confused about this book. This is the second time reading this; the first was in 2013. This book wasn't awful, but I didn't like the writing style, I didn't connect with the characters, I don't feel too bad for the characters. Yes, of course I feel bad for Charlie about what happened when he was a young boy, but I really don't understand why this book is so popular.
The book starts out by having Charlie writing to his "friend," whom he doesn't know, about his life. Within the first few chapters you deal with abuse, homosexuality, and everything in between. This book didn't really hit home for me. The first time I read it I was appalled that anyone would even write a book with any of the topics covered, but then again, I was in 6th or 7th grade. I can understand where some people could connect with Charlie because of some of he issues he dealt with, but I didn't. Like at all.
People love this book more than anything. I've heard from at least three people that this is their favorite book of all time just in the short bursts of reading at school. I've heard of people rereading this book multiple times just to have their "moment of infinity" again and again. This book has an average rating of 4.20, and has been rated 793,215 times on Goodreads. This makes me question whether people actually love this book or are so set in the mindset that they have to love this book.
This book is very talked about. It is obviously rated very high on Goodreads, and I've heard so many people talking about it at school, work, online, YouTube. Everywhere people put this book on such a high pedestal, and I think some people are told they have to like it because it is The Perks of Being a Wallflower. I mean you have to, right?
You don't. Let your individuality show through with the books you read. You don't have to "fit in" with your peers just because they loved a book and you didn't. I don't disown someone for having their own opinions about books, so why would someone judge you?
Overall, I think a lot of the topics that were covered in this are very touchy, and that's part of the reason this book is so highly acclaimed. Everyone loves a little bit of provocative writing. It gets people talking. I didn't love this book, but I can understand why some would love it.
What are your thoughts on this book?