Lady Midnight (The Dark Artifices #1) – Cassandra Clare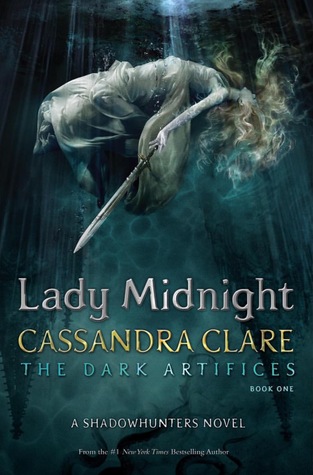 Title: Lady Midnight (The Dark Artifices #)
Author: Cassandra Clare
Release Date: March 8, 2016
Publisher: Margaret K. McElderry Books
Format: Hardcover
Page Number: 720
Source: Book Store
The Shadowhunters of Los Angeles star in the first novel in Cassandra Clare's newest series, The Dark Artifices, a sequel to the internationally bestselling Mortal Instruments series. Lady Midnight is a Shadowhunters novel.
It's been five years since the events of City of Heavenly Fire that brought the Shadowhunters to the brink of oblivion. Emma Carstairs is no longer a child in mourning, but a young woman bent on discovering what killed her parents and avenging her losses.
Together with her parabatai Julian Blackthorn, Emma must learn to trust her head and her heart as she investigates a demonic plot that stretches across Los Angeles, from the Sunset Strip to the enchanted sea that pounds the beaches of Santa Monica. If only her heart didn't lead her in treacherous directions…
Making things even more complicated, Julian's brother Mark—who was captured by the faeries five years ago—has been returned as a bargaining chip. The faeries are desperate to find out who is murdering their kind—and they need the Shadowhunters' help to do it. But time works differently in faerie, so Mark has barely aged and doesn't recognize his family. Can he ever truly return to them? Will the faeries really allow it?
Glitz, glamours, and Shadowhunters abound in this heartrending opening to Cassandra Clare's Dark Artifices series.
---
5 out of 5 stars
Okay. This book was freaking amazing, and I loved every second of it. I started reading the book the day it came out (March 8th) in preparation for the Cassandra Clare signing that I went to. I got 65%ish through the book before then, and almost started crying whilst waiting in line for the signing. I mean, of course I was reading in line. Duh.
Seriously, though. Cassandra Clare has outdone herself yet again. I loved this book so much because we got introduced to a new cast of Cassie characters! It has been so long since I've had new and fresh faces in The Mortal Instruments world, and it was beautiful. Julian and Emma. My gosh. I just cannot even express how much I love them and loved the development throughout the course of the book holy goodness. Julian being the father figure to his younger siblings was something we hadn't experienced in a Cassandra Clare book, and it was a nice change from the somewhat hard and sassy main male characters we've had. I love them just the same still, but it was a nice change of scenery per say.
So we all read a tiny bit about these characters at the end of City of Heavenly Fire, but the eldest children were 12. Now they're 17, and things have changed and wonderful and beautifully heartbreaking things have happened. The parabatai bond makes it "impossible" to fall in love with the other of the bond. "Impossible" meaning that it should never be done unless you want to burn in hell with demons, but we've never known why until Jem comes along and lets all the info spill to Emma.
*whimper sound*
I just want things to be perfect and wonderful, but they're perfectly broken and not knowing what to do and I just can't. The one thing that I hated *and loved, but shouldn't have actually been in the context of the story. It was beautifully written, and I liked reading it, but it was unrealistic* was the beach scene. Now. If you've read this book you understand my feelings towards it. I thought that it was a great scene, but why? They knew that they shouldn't have, they've not even let themselves kiss before sooooooooo. Whatever. If that was the only downfall to this book I think we're in good shape.
I CAN'T WAIT FOR THE NEXT BOOKS AND I DON'T UNDERSTAND HOW I CAN POSSIBLY BE OKAY FOR ANOTHER FULL YEAR OH EM GEE.
Tell me your thoughts without being super spoilery in the comments, or email me at aubreyjoy99@gmail.com to tell me about the spoilers you loved and can't keep to yourself!
Series:
Lord of Shadows (The Dark Artifices #1)