Glass Sword (Red Queen #2) – Victoria Aveyard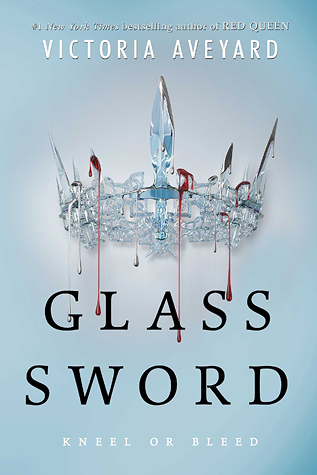 Title: Glass Sword (Red Queen #2)
Author: Victoria Aveyard
Release Date: February 9, 2016
Publisher: HarperTeen
Format: Hardcover
Page Number: 444
Source: Book Club
If there's one thing Mare Barrow knows, it's that she's different.
Mare Barrow's blood is red—the color of common folk—but her Silver ability, the power to control lightning, has turned her into a weapon that the royal court tries to control.
The crown calls her an impossibility, a fake, but as she makes her escape from Maven, the prince—the friend—who betrayed her, Mare uncovers something startling: she is not the only one of her kind.
Pursued by Maven, now a vindictive king, Mare sets out to find and recruit other Red-and-Silver fighters to join in the struggle against her oppressors.
But Mare finds herself on a deadly path, at risk of becoming exactly the kind of monster she is trying to defeat.
Will she shatter under the weight of the lives that are the cost of rebellion? Or have treachery and betrayal hardened her forever?
The electrifying next installment in the Red Queen series escalates the struggle between the growing rebel army and the blood-segregated world they've always known—and pits Mare against the darkness that has grown in her soul.
---
4 out of 5 stars
I really enjoyed this book, but it was definitely a filler book for the rest of the series. This happens quite often with trilogies or quartets where the books in the middle are just there to be there. I felt that way with this one, honestly. Yes, things did happen, but not extremely large plot points throughout. My favorite part of this book was making the connections between the places in the book. Now, this isn't a legit map, it's just a fan made thing, but it makes SOOOO much sense.
It's pretty cool, if you ask me.
I enjoyed the relationship between Cal and Mare through this one because there was some tension. It wasn't just them pretending not to show feelings for each other; they had wayyyyy more important things to worry about and it was nice for the book to not be romance driven.
Mare was very reclusive and scared during this book, and that surprised me. She didn't want anyone to die, but was putting everyone in danger. She had PTSD (I think) from being in the Hunger Games-like competition thing at the end of book one. I don't know. Mare reminded me of Katniss a lot, and I get that THG is a very successful series, but please try and think of new characters.
Some of the powers that were introduced from the Newbloods were fricking cool. The gravity thing and the future telling powers were my favorite. They were really cool to read about, and I really liked the group that were the Newbloods.
I would most definitely choose to be Mare's brother in this book because he had the ability to transport people. He would touch someone and think of a place and then they'd "jump" there. It was a really cool power to read about, and I can't wait to see which powers show up in the next books.
The cliffhanger at the ending just pissed me off, honestly. I want to know what happens, but I also just want to not know because why would you end a book like that. Ugh. Whatever. It was a good ending for the book, but I just didn't like it. It was logical.
Series: