The Titan's Curse (Percy Jackson and the Olympians #3) – Rick Riordan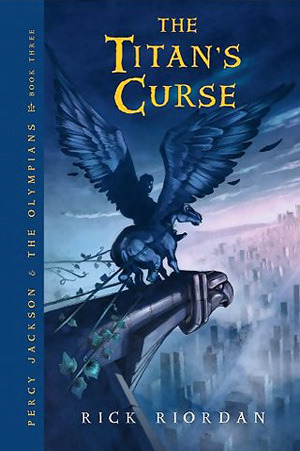 Title: The Titan's Curse (Percy Jackson and the Olympians #3)
Author: Rick Riordan
Release Date: May 5, 2007
Publisher: Puffin Books
Format: Paperback
Page Number: 320
Source: TBR Pile
IT'S NOT EVERYDAY YOU FIND YOURSELF IN COMBAT WITH A HALF-LION, HALF-HUMAN.
But when you're the son of a Greek god, it happens. And now my friend Annabeth is missing, a goddess is in chains and only five half-blood heroes can join the quest to defeat the doomsday monster.
Oh, and guess what? The Oracle has predicted that not all of us will survive…
---
5 out of 5 stars
This has been my favorite book from this series so far. I really enjoyed reading it! Rick Riordan has a very easy-to-read writing style, and I sped through this book. If you look at my goodreads you'll see that I started this on June 17 and finished it today. That is ten days, but you have to understand that for most of those days I didn't even read from this book. I had to read my book for book club during that time and wow it took like 12 years. Anyway, I was actually reading this book for between 2 and 4 days. Ish.
I really loved this book. It was fun, fast paced, filled with great characters. Woo. Look at that alliteration I just unintentionally used. Anyway, this has been my favorite. I think I'm finally starting to connect with the characters and I'm starting to love them. I'm anxious to see what happens with Nico in the next book. The end left it with a cliff hanger about him. Excited to see that :)
I literally want Percy and Annabeth to be together forever and ever and ever. Seriously they are the best ship ever. They're perfect for each other and I love themmmmmmmm. I know that they're like 14, but it could happen. I'm still dating my boyfriend from when I was 14 and now I'm 17. It's possible, people! They're honestly destined to be together.
My favorite scene from this book was when they were at the Hoover Dam and everyone was like:
"I want to go to the dam snack bar."
"Where's the dam bathroom."
"I need to find the dam drinking fountain."
It honestly made me laugh more than it should have, but whatever. I enjoyed it.
I think that middle grade like this is the way to go. The books are usually quite short, they're fast paced, there is the slightest amount of romance, there are some pretty epic action scenes. It's great. Highly recommend. If you've not picked up this series, get it together.
Series:
The Lightning Thief (Percy Jackson and the Olympians #1)
Sea of Monsters (Percy Jackson and the Olympians #2)
The Battle of the Labyrinth (Percy Jackson and the Olympians #4)
The Last Olympian (Percy Jackson and the Olympians #5)