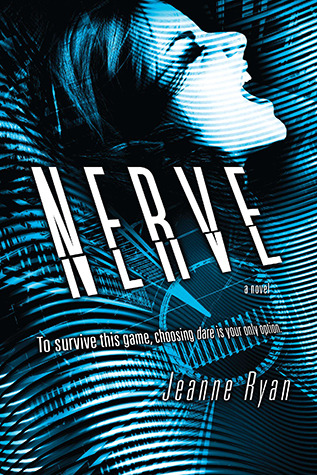 Title: Nerve
Author: Jeanne Ryan
Release Date: September 13, 2012
Publisher: DIAL
Format: eBook
Page Number: 304
Source: Barnes and Noble
A high-stakes online game of dares turns deadly
When Vee is picked to be a player in NERVE, an anonymous game of dares broadcast live online, she discovers that the game knows her. They tempt her with prizes taken from her ThisIsMe page and team her up with the perfect boy, sizzling-hot Ian. At first it's exhilarating–Vee and Ian's fans cheer them on to riskier dares with higher stakes. But the game takes a twisted turn when they're directed to a secret location with five other players for the Grand Prize round. Suddenly they're playing all or nothing, with their lives on the line. Just how far will Vee go before she loses NERVE?
---
3 out of 5 stars
I read this book when I was in Italy! Just that random tidbit of information. I only started this book because I needed a cheap book on my Nook for the long plane rides to and from Italy. I got this book because I knew that it was a movie, and I love the main actors that will be in the movie. I'm very excited to see the movie, because I think it will be read better as a movie.
I didn't love this book, but I also didn't hate it. I thought that it was okay, but definitely could have been better. One thing I didn't like about this book was that you got no background information whatsoever on any of the characters. And the beginning had nothing to do with the end; it starts with a little epilogue thing before the story starts as kind of a hook, but there was no purpose. It literally didn't connect at all. So ugh to that.
This book is basically the drama version of The Hunger Games, but less dangerous. These teenagers can sign up to be part of the game NERVE where they're offered great prizes in turn for doing embarrassing dares and posting them on the website. The main character just randomly is like, 'oh yeah. even though i'm never ever rebellious, lets just play around with the game.' Firstly, she did not have the personality during the beginning of the book to even go through with the dares, but whatever. Her first dare is to dump water over her head in a coffee shop and sing a song at the same time. She ends up getting a ton of likes and a lot of views on her video, so she continues on. She is set with a partner named Ian, whom she, of course, falls in love with.
Ian. Hmm. I don't get it. I get that he's like extremely hot and that's why she's attracted to him, but you get no back story on him at all. He talks about how he needs to escape and be free, but you never find out why he feels like that. I didn't see his drive throughout the story.
The actual game NERVE was a really cool concept, but it could have been better executed in my opinion. There wasn't a reason except for selfishness. I don't know if there's an underlying message, but honestly it was a wannabe Hunger Games.