Grave Mercy (His Fair Assassin #1) – Robin LaFevers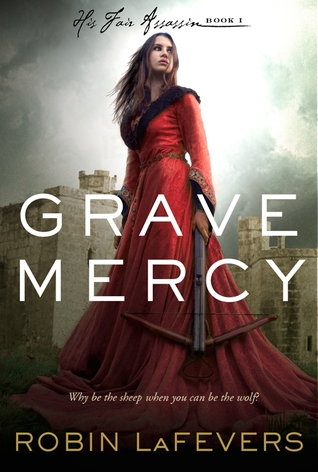 Title: Grave Mercy (His Fair Assassin #1)
Author: Robin LaFevers
Release Date: April 3, 2012
Publisher: Houghton Mifflin Harcourt
Format: Hardcover
Page Number: 550
Source: Library
Why be the sheep, when you can be the wolf?
Seventeen-year-old Ismae escapes from the brutality of an arranged marriage into the sanctuary of the convent of St. Mortain, where the sisters still serve the gods of old. Here she learns that the god of Death Himself has blessed her with dangerous gifts—and a violent destiny. If she chooses to stay at the convent, she will be trained as an assassin and serve as a handmaiden to Death. To claim her new life, she must destroy the lives of others.
Ismae's most important assignment takes her straight into the high court of Brittany—where she finds herself woefully under prepared—not only for the deadly games of intrigue and treason, but for the impossible choices she must make. For how can she deliver Death's vengeance upon a target who, against her will, has stolen her heart?
4 out 5 stars
---
We read this book for my book club, and it was a pretty enjoyable read. I love historical fiction/fantasy-esque books, so this was right up my alley. I love reading about castles and kings and princes and everything set in that time period, so I really enjoyed the setting. I really loved that it wasn't somewhere that I had heard about before. My friend who is in charge of the club, Rachael, researched about the history of Brittany, and most everything was historically accurate but with a fictional twist.
I really enjoyed reading about an assassin, because Ismae was a really strong character. I love reading strong female leads because they're just so much. Ismae is very sassy, but in a dry sense of humor sort of way. She was confident, but also fragile. It was really a beautifully written story.
Also. Her relationship with Duval. Oh my gosh I shipped that so hard. They were perfect for each other, and it was perfect because she didn't want to love him but she did. Oh my goodness it was beautiful. The scene where she was praying that she wasn't in love made me crack up. By crack up I mean smirk and make some scoffing sounds, but it was still cute.
The only reason I didn't give this book five stars was because of the ending.
SPOILERS
I liked that she had to leave the castle, because I really thought that LaFevers was going to kill off Duval. I didn't want her to because they're perfect together, but I would have given her props for having the guts to kill him. Anyway, she literally came back and was like "oh yeah the only way I can save him is to suck the poison from his lips, then have sex with him." Hmmmmmmmmm. Idk about that one. I loved the whole book, and then this scene was so anti climactic! I didn't want to read porn by any means, but it was so…. anti climactic. The lead up to the sex scene was kind of creepy with her sucking the poison out of him, and then the sensual part was over in a paragraph. I get leaving it to the imagination of the reader, but it was basically saying the only way to make things better is to have sex with the guy you like. I just feel like because the beginning of the book started with her almost getting raped by the man she was supposed to marry, that having sex was a bigger deal to her than what happened. I feel like she should have been more emotionally invested into the situation, but those are just my thoughts.
SPOILERS OVER
Overall I really enjoyed this book, and I can't wait to read the next one in the series. I love reading historical fiction, and I think the next one should be interesting because it's from a different point of view. Super pumped. Also, the cover is pretty on the next one. Stay tuned for that review that will probably come sometime not super soon (knowing my reading habits). oops.